Library Story Times in Hartford County for Babies thru age Five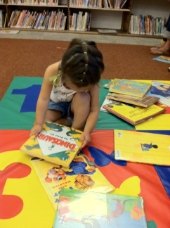 Starting to read to your children at an early age is a great way to ignite a love for books. Ever since I was a young girl I have always enjoyed reading. Fortunately, I have passed on that quality to my own daughter. I believe reading her a bedtime story every night since she was born and all of those visits to our local library's morning story hours have really made a difference. Now she will sit entertaining herself in her room with a pile of books for hours. Although she is not old enough to understand what the words say, she looks through the pages, analyzes the pictures, and makes up her very own story. Here is compilation of fun story times in the Hartford County area.
The Plainville Public Library has drop-in story times held for children between the ages of one and five. There is a fall session and, after the holidays, a winter/spring session. Children must be the appropriate age for the class they are attending. The story time programs are held in both the daytime and evening but when there is no school in Plainville story times are canceled. The Wild Ones Program is on Mondays from 10:30 to 11:00 a.m. This active program is for one year olds (12 – 24 months) and their caregivers. Babies are welcome. Short stories, finger plays, music and big balls will introduce your wild one to fun at the library. On Thursdays at 10:30 am there is a story time designed for children 24 - 36 months with a caregiver. The caregiver is expected to take an active part in the program with the child. Each 45-minute program consists of beginning storybooks, finger plays, movement songs and a craft. On Tuesdays at 6:30 pm there is a class for four and five year olds. Kindergartners welcome. Children attend this program by themselves. Longer stories, featuring the best in children's picture books, are read in these 45-minute programs and children learn finger plays, fast paced songs and do a craft project.
56 E Main St  Plainville, CT 06062
The West Hartford Public Library has a variety of reading programs available for children. The summer 2013 Children's Story time is a program for children to enjoy stories, finger plays, music, movement and so much more. They offer story time programs for children ages newborn to age 5. Participants will develop a love of learning to last a lifetime! Registration is required and starts Monday, June 24 at 7:00 pm. Please call the Children's Department at 860.561.6980 for more information. Every Friday they also have a drop-in story time from 10:30 - 11:15 am for children ages 3, 4 & 5 that meets in Children's Story Room. Your child attends alone in the Children's Story time room.
20 S Main St West Hartford, CT
Every Wednesday at the Avon Public library your child ages 3-5 can enjoy a drop-in story time at 1:30 pm.
281 Country Club Rd  Avon, CT 06001
New Britain Public Library has a few options for story times divided into age groups. Fridays at 10 am is the youngest group (for under age 3) where the child and caregiver will have a chance to explore, play with toys, interact with peers and participate in mini story times. The Terrific Tots program is Mondays at 10 am for ages 2 ½- 3 ½. On Wednesdays is the Super Kids program for kids 3-5 a 30 minute program for the more experienced listener where the child is encouraged to attend alone and become accustomed to being apart from their parent for a short period of time. Thursdays at 6:30 pm is a family time story that includes a story and a film or craft.
20 High St  New Britain, CT 06052
The story time schedule for Newington Public Library is Mondays from 10:15-11 am for ages 9-24 months, Tuesdays 12-12:45 pm for 3-4 year olds for the music and movement group "Read, Rattle and Roll", Wednesdays 10:15-11 am is for 24 months and older, Thursdays 10:15-11 am is story time for ages  3-6 years old, and Fridays is 6:30-7:15 pm for a family story time where all ages are welcome.
95 Cedar St  Newington, CT 06111