Kids' Birthday Party Venues in Central Connecticut: Art, Basketball, Gym Party, Carousel and Tennis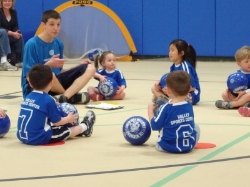 We have covered a variety of fun options for all your party planning needs whether your child wants a Princess party, museum or art themed party. Be sure to browse through our Connecticut Kids' Birthday Party Guide for some great ideas. Here is a list of even more great choices in Central Connecticut if you still haven't found what you're looking for. Art, basketball, gym party, carousel and tennis themes all included!
Messy Smocks in Avon offers a fun party experience for kids to be creative and make a mess! Choose from 2D and/or 3D project ideas, make a 3D three-tier birthday cake sculpture and get group picture prints from their studio. Call the studio to set up an appointment for a free consultation to book a party.
37 E. Main St. Avon, CT 06001 (860) 321-7173
Celebrate your child's birthday with the University of Hartford Hawks division basketball game in a family friendly environment for only $12 per guest. The party package includes a ticket to a game, hot dog chips and drink, a special birthday announcement, group photo with Howie, a goodie bag, and a private pre-game area for cake and presents!
200 Bloomfield Ave. West Hartford, CT 06117
Host a party at Valley Sports Center in Canton for an unforgettable party experience. Enjoy a fun party package that includes pizza, decorations, beverages, 75 minutes in the gym (with a choice of 3 sports like basketball, soccer, whiffle ball, dodgeball, kickball, volleyball and capture the flag), 30 minutes in the party room and more. Packages are $275 and an additional $40 for the Lil' Kickers party for ages 2-6.
310 Albany Turnpike Canton, CT 06019
The New England Carousel Museum in Bristol has one of the largest collections of horses in the country and is a great party choice option. Two hour parties take place amid painted ponies and include a tour of the museum, craft session, and time for cake and treats. Choose from three themes "Carousels", "Days of Knights", and "Victorian Tea Party".
95 Riverside Ave  Bristol, CT 06010 (860) 585-5411
Give your child a birthday party at the Tennis Center of Newington with one hour of on-court play and fun games with a tennis professional and a private party room for opening presents and refreshments. The cost for a party is $150 for up to 10 children, $180 for 11-15 children, $240 for 15-20 children with tennis racquets supplied.
60 Prospect Street, Newington, CT 06111 (860) 667-2261