Ice Fishing & Eagle Watching (Fairfield County)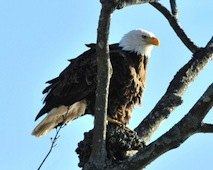 You might think of ice fishing as something people only do in Alaska, or Minnesota ... or the movies.  You'd be mistaken, come late January or early February!  Weather permitting, right here in Fairfield County, you can whip out your auger and put a line in ... not to mention spend hours of quality time with your son or daughter.  This particular Mommy Poppins doesn't know a jig from a lure, but she did scour the state's fishing message boards for tips on where to find the honey spots.  And if that's more of an outdoor winter adventure than you need, what about day-tripping out east to see the annual eagle migration?  You can track them by land, sea, car or train.  Cabin fever, be gone!!
Remember anglers, to ice fish you'll have to obtain 2014 licenses for you and any of your crew over 16.  Be sure to pick up an Angler's Guide, too, for info on catch limits and other rules.
ICE FISHING SPOTS:
Ridgefield:
Seth Low Pierrepont State Park
Lake Mamanasco
Redding/Wilton:
Factory Pond (Norwalk River) Season: Open 6:00 a.m. 3rd Saturday April – last day February.
Danbury:
Margerie Lake Reservoir
West Lake Reservoir
Lake Kenosia
Candlewood Lake - Squantz Cove  Season: Open 6:00 a.m. 3rd Saturday April – March 31
Upper Kohanza  (parking at South King St).
Shelton:
Lake Housatonic
Monroe/Newtown:
Lake Zoar, from the Shepaug Dam to the Stevenson Dam.
Contact Park Manager (203-735-4311) for information concerning status of fall boating and fishing access.
EAGLE WATCHING TOURS:
Shepaug Dam Bald Eagles
Bring extra layers, your patience, and absolutely, positively don't neglect to make reservations -- they're free, but they're REQUIRED!  Also review their website's 'Plan Your Visit' page, for a handful of places to stop en route that may give you a glimpse of the majestic birds.
See website for directions to observation station.
CT River Expeditions
These guys claim to have the 'original' Eagle Cruises, complete with naturalist guides, free coffee/tea, and a supply of binoculars (first-come, first-serve, so if you have a pair, bring them)!  The 2-hour trips run February 9th through March 17th, on Saturdays and Sundays at 9am, 11:30am and 2pm, and Thursdays at 10am and 1pm.  Online booking available.
Eagle Landing State Park, 1 Marine Park, Haddam, CT (Off Route 82/Bridge Rd.)
Across the river from the Goodspeed Opera House
All Aboard the Eagle Flyer
Shhhhh ... the same train that takes you to the North Pole also provides a great views of the Connecticut River Valley.  Bring your binoculars!  February 16-17 only (President's weekend).  $20 adults/$15 kids (2-11).  Departs from either Essex or Haddam, CT. 
One Railroad Avenue, Essex, Connecticut 06426
860-767-0103
The Audubon Shop Eagle Tours
This carpool tour along the Connecticut River ends with lunch at Oliver's Tavern in Essex.  Tickets are $20/person, including lunch.  You can also reserve a set of binoculars for $4.  Saturdays: January 26; February 2, 9, 16, 23; Mar. 2.
907 Boston Post Rd. Madison CT 06443
203-245-9056
Connecticut River Museum Eaglewatch Boat Tours
All aboard ... but only with children over 6!  Bundle up and grab your binoculars for this 90-minute nautical eagle watch tour led by naturalists.  After your back on land, check out the museum's 'Eagles of Essex' exhibit.  Fri/Sat/Sun through March 17. $40/ticket.
67 Main St., Essex Village, CT
860-767-8269