Hurricane Sandy: How to Prepare and Have Fun With CT Kids While Stuck at Home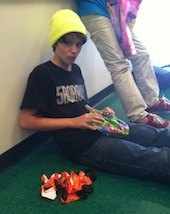 I happened to be in San Diego this weekend for a family wedding and was worrying that our return flight on Sunday had a good chance of being canceled. Lucky for me (or unlucky, however you want to look at it) our flight went without a hitch and we arrived at 4pm right before JFK canceled all of their domestic flights. On the way home to CT we made a point to fill up the car with fuel and to stop by the grocery for "power outage food", mainly chips, fruit, water, cookies, almond milk and cereal. I also hit up the ATM to have cash on hand. I plan to cook up soup and some meat tomorrow morning so that it doesn't go to waste and is edible these upcoming days. You see, embarrassingly enough, even after Irene's wrath last year we still don't have a generator! When the power goes out you can find us all huddled by the fireplace roasting marshmallows. Many along the coast have been evacuated due to anticipated heavy flooding, mass transit is closed as well as most schools. We're all in this together. Might as well make the most of it while we can and prepare for safety's (and sanity's) sake. Our NYC site has a great post with lots of ideas on ways to keep busy and have fun with the kids during the storm.
If you haven't already, it's a good idea to fill your bath tub with water so that you have extra water for washing dishes, cleaning up, flushing toilets, etc. Do any laundry that you have now so that you are set in case we have to go without power for an extended period of time. Cook up any meats/veggies in your fridge so that they can be eaten throughout the day once power goes out and you can't cook. Have your flashlights/candles/lanterns ready to go. It's a good idea to freeze bags of water and put them in your freezer to keep your freezer colder longer. Don't open it once the power goes out either. I have cast iron pots and pans that I can use in the fireplace. Last year, after a couple of days of eating pb&j sandwiches and fruit, I made scrambled eggs and sausages over the fire to everyone's delight. Make sure you secure all outdoor furniture. It's going to get real windy out there folks! It may not be a bad idea to sign up to be on CT's emergency alert system.
We are planning to do loads of homework while we are home from school. We have our reading books within reach and I am imagining a few hours of drawing and Halloween art projects as well as some pumpkin carving. You can't go wrong with play-doh, puzzles and board games for the little ones. I'm charging up all laptops so that we can watch a movie a day if (when) the power goes out. Oh, and BINGO, can't forget the bingo set!
So what are you going to do to keep your kids (and you) from going stir crazy during the hurricane? For inspiration, peruse our Mommy Poppins' roundup of 50 Indoor Activities for a Rainy (or Hurricane-y) Day. Our suggestions are short and sweet—throw a party, for example—but they remind you how easy it is to have fun, even when Mother Nature is pounding at your door.
Whatever you do over the next few days, stay safe and enjoy each other's company. You're in for some quality time with the family.