Halloween Happenings and Parades in Fairfield County, CT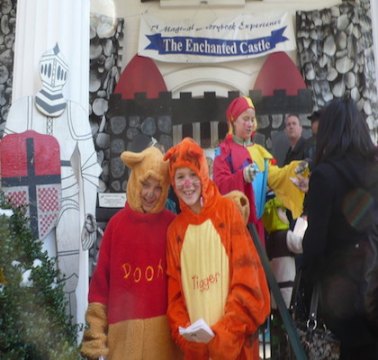 Halloween seems to get bigger and better every year--and I'm not just talking about the size of the candy bars. Back in the day, we were happy just to trick or treat in our neighborhood, but these days, you can start celebrating at the beginning of October and continue celebrating all month long! Even if you don't love Halloween, we've got a lot of great ideas for ways to get out there and enjoy (both spooky and non-spooky) in our Connecticut Halloween and Fall Fun Guide.
Here in Fairfield County we have a huge variety of activities and events from Halloween parades to hayrides to pumpkin patches and more. We've collected some of our favorite Halloween happenings here, but don't forget to subscribe to our weekly newsletters and keep tabs on our event calendar so that you won't miss any Halloween fun!
Howl-o-Ween, Beardsley Zoo, Bridgeport, CT: Visit Beardsley Zoo on October 17th, 23rd, 24th or 30th, 31st from 6:30-10pm for their Howl-O-Ween event. This year's events include a Hayride, a Haunted Farmyard, a Gruesome Greenhouse, and a magic show. Free face painting and candy are included with admission. The event is recommended for kids 8-15. Younger children may prefer the free Boo at the Zoo on Monday, October 26th.
Brookfield Halloween 5K and Kids K Fun Run, Brookfield CT: What better way to enjoy the run-up to Halloween than to run in a race! On Sunday, October 25th families can put on their costumes and run together. This USATF certified course has a 10:00am start time and walkers are welcome. The kid's race starts right before the 5K at 9:30. Kids compete on a 1K course with divisions for 5 and under, 6-8 and 9 and up.
Danbury Railway Museum Pumpkin Patch Train, Danbury, CT: You will ride a vintage train to the pumpkin patch where each child is given a FREE pumpkin and everyone enjoys cider and cookies. Costumes are encouraged and there are plenty of activities including a Thomas the Train table and a coloring station for the kids to enjoy. No reservations are required.
Enchanted Castle, Burr Homestead, Fairfield, CT: When you visit the Burr Homestead, you'll find seven rooms transformed into storybook themes where your little ones can interact with popular characters from Aladdin, Cinderella, Beauty and the Beast, the Little Mermaid, Pirates of the Carribean, the Wizard of Oz and Candyland. The event is targeted at kids ages 2-10, and strollers are not allowed. Saturday, October 23rd - 31st.
Legends and Hauntings, Fairfield, CT: Head to the Fairfield Museum on Sunday, October 25th, or Friday, October 30th, for a nighttime walking tour of haunted Fairfield. Hear about body snatching and ghost legends, and stand on the spot where the 17th century witch trials took place.
Build a Scarecrow Workshop, Sam Bridge Nursery & Greenhouse, Greenwich CT: Bring your family to this beautiful, sprawling back country nursery every Saturday in October (and Monday, October 12th) for scarecrows and pumpkin painting. For $35, they supply the frame (4ft or 6ft), head, stuffing and a place to make a mess. ou supply the pants and long sleeve button and whatever accessories you want to create a one-of-a-kind scarecrow. Each workshop will be judged and the winner gets a prize. Reservations are a must. Pumpkin Painting is available on the same schedule as the scarecrow workshop and each pumpkin is $8. They offer FREE hayrides to their Pumpkin Patch from September 25th - October 31st.
Halloween Happenings, Bendheim Greenwich Western Civic Center, Greenwich CT: Come in costume for this Halloween themed dance party with games, music, candy, prizes and refreshments. Friday, October 23rd, 6:00-8:00pm. Tickets must be purchased in advance.
Halloween Spooktacular, New Canaan Nature Center, New Canaan CT: On Saturday, October 24th from 6:00-8:00pm your kids can meet creepy critters like bats, snakes, spirders and more before getting a chance to make your own slime. End the night roasting marshmallows by a roaring campfire. Costumes encourages, appropriate for all ages, but please note it's not a drop-off activity.
Monster Mash, Stepping Stones Museum for Children, Norwalk, CT: This not-so-scary event will be held during on Halloween day. Kids can dress up in their favorite costumes and enjoy games, face-painting, and a treasure hunt. They can create masks, decorate pumpkins, and design their own tote bag for collecting Halloween treats!
Mill Hill Haunting, Norwalk, CT: Take a lantern tour through Norwalk's historic Mill Hill graveyard. Your guide will regale you with stories of death, hauntings, murders and stories of Norwalk's most colorful past residents. Tours run every half hour between 6:00pm – 9:30pm (under a tent during inclement weather). Refreshments follow each tour in the historic 1826 "Little Red Schoolhouse." Don't forget your flashlight! (Not recommended for children under 8.)
Stew Leonard's, Norwalk CT and Danbury CT: This popular theme park of a store has all kinds of Halloween fun throughout the month of October. Stew's is already a great stop to find your perfect pumpkin, but they also have the Halloween Hay Bale Theater which shows a FREE children's Halloween movie every Friday night in October in Norwalk and Danbury. There's a family-friendly Halloween Hay Ride Spooktacular running daily starting October 3rd in Norwalk and Danbury. Check out the store's Trick-or-Treat day where your little ones can trick-or-treat at the Danbury and Norwalk store and take their pictures with Stew Leonard's characters including their mascot, Wow the Cow. Children who go to the store on Halloween Day in costume in both the Danbury and Norwalk locations receive a free ice cream. Dates and times of Halloween activities vary by store so be sure to check our events calendar.
#ACAMHalloween, Aldrich Contemporary Art Museum, Ridgefield CT: Trick or Treat at the Aldrich Contemporary Art Museum on October 31st between 5:00-8:00pm and have your photo taken in front on multiple "spooktacular" photo booths. See your image projected on the museum, add it to the live Instagram feed, and leave with a treat.
Haunted Hayride and Haunted Trail, Fairview Tree Farm, Shelton, CT: Looking for something a little scarier? Try Fairview Tree Farms one-and-half-mile dark, spooky hayride. The one mile haunted trail is a walking trail that is meant only for ages 12 and up. Both feature live creatures in costume along the way. Food and drinks available for purchase.
Trick or Treat on Hecksher Farm, "Ick Fest" and more, Stamford Musem and Nature Center, Stamford CT: Kids can create their own scarecrow for the Harvest Festival scarecrow contest at special workshops held on Sunday, October 4th and 11th. Kids can Trick-or-treat on the farm on Sunday, October 25th where they will look for the clues that lead them to the five Trick-orTreat stations set up around Hecksher Farm. When everyone's done trick or treating, head over to the Ick Fest at the Overbrook Nature Center to check out the "slime table" and visit snakes, tarantulas, and other creepy crawlies.
CHT's Ghost & Goblin 5K and Kid's Fun Run, Sherwood Island State Park, Westport CT: Put on your costume on Saturday, October 25th and take part in this USATF certified 5K on a flat and fast loop through Sherwood Island State Park. The kids fun run features a 100m dash and a 1/4 mile run with awards for all participants. T-shirts for all pre-registered entrants. Before October 12th, it's $20 for the 5K and $15 for the Fun Run, after 10/12 entry fees go up to $25 for the 5K and $20 for the fun run.
Fright Night at Ambler Farm, Wilton CT: This drop off activity for kids in grades 3-5 includes haunted activities and frightful stories. Creepy sights, mysterious sounds and a Ghost Dog who frequents the farm. Top it off with a moonlit hayride. Advance registration required.
Town Parades
There's nothing quite like the cuteness of a town Halloween parade! Here are a few that are coming up in Fairfield County:
Danbury Halloween on the Green, Saturday, October 31 at CityCenter. Party on the green from 2:00-4:00pm, costume parade 3:30. They'll have a costume contest, games, food, and more.
Darien Halloween Parade, On Friday, October 30th meet at the Darien Fire Station (opposite Post Corner Pizza) to participate in this annual parade for toddlers and pre-school aged children. Costumed kids trick or treat with local merchants on their way to Tilley Pond for snacks and a special magic show with The Amazing Andy.
Rowayton Halloween Celebration, On Sunday, October 25th at the Rowayton Community Center. In addition to a parade, this event has a hay maze, petting zoo, pony rides and a haunted house.
New Canaan Halloween Parade, Sunday, October 25th goody bags will be handed out and the parade starts at 1:00pm, led by the Old Faithful Antique Fire Truck. Children of all ages, and their dogs, are welcome.
Westport Halloween Spectacular, Wednesday, October 28th. Children in costume parade up Main Street and trick or treat along the way towards Town Hall for more treats, snacks and a DJ dance party. The Main Street parade leaves from the YMCA at the corner of Post Road and Main Street at 3:30pm. The Town Green party starts at 4:30pm.
Ridgefield Halloween Walk on Main Street, On Saturday, October 31st Trick or treat along Main Street in Ridgefield.
Happy Halloween!
Photo: The Enchanted Castle
Originally published October 22, 2012.