Family Friendly New Year's Eve Fun in Central CT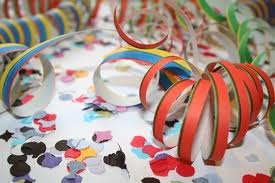 Remember the days of flowing champagne and New Year's Eve parties extending into the wee hours of the morning? Me neither. If the thought of staying up much past, or even until, midnight elicits a groan from you these days, you will want to check out these family-friendly NYE events in the Hartford area. Many  have an early countdown so kids can celebrate too. Don't forget to check out Things to Do Over the Holiday Break with Kids in Hartford County for ideas on how to keep busy during the waning days of December. Happy holidays! 
Ring in the New Year celebrating cultures and traditions from around the globe at Imagine Nation's New Year's Celebration. Kids can create confetti, masks, noisemakers, and a colorful flower float, as well as dance to a DJ, march in a New Year's parade, and count down to the ball drop at noon. Open from 10 am-1 pm. Admission is $7; museum members and children under one are free.
1 Pleasant Street, Bristol 06010 / (860) 314-1400
First Night in Hartford, the city's official New Year's Eve celebration, features performances, fun activities for the entire family, firework displays, and more. The events will be held at more than 20 venues and sites in downtown Hartford, from 10 am-midnight. Check the web site for schedule and parking information. Wristbands for the alcohol-free event are $12 for adults and $3 for children ages 3-15; 2 and under are free.
Multiple Venues, Downtown Hartford / (860) 727-0050
Fun Squared, an entertainment center in Newington, is having a family friendly NYE party with two separate countdowns: one at 9 pm for the younger kids and another at midnight. Enjoy unlimited bowling, laser tag, pizza, and soft drinks from either 6-9 pm or 9:30 pm-12:30 am for $20 per person.
56 Costello Road, Newington 06111 / (860) 666-6150
Jump-n-Jammin' in Bristol has a NYE open jump party for families from 4:30-7:30 pm. Included in the cost is a magic show; crafts and games; jumping; and pizza, beverages and ice cream. Reservations are required. Admission is $15 per person, $55 for a family of four, $70 for a family of 5, and $85 for a family of 6.
815 Pine Street, Bristol 06010 / (860) 582-5867
Head to Veterans Memorial Skating Rink for their New Year's Eve Skate with DJ Ean from 6:30-8 pm. Ring in 2015 on the ice with hats, horns, and a countdown to an early midnight. Admission for West Hartford adults is $6.25; ages 12 and under is $5.75; and non-resident child or adult is $7.25. Skate rentals are $4.
56 Buena Vista Road, West Hartford 06107 / (860) 521-1573
Skate in the New Year at Simsbury Farms with a special Family New Year's Eve Public Skate from 6:15-8:15 pm. The night will feature a gift (while supplies last) for everyone to take part in the countdown to 2015 at 8:00 pm. There will alsp be free hot chocolate and free skate rentals (while supplies last). Admission is $3/person. 
100 Old Farms Road, Simsbury 06092 / (860) 658-3836
The following will be open, but not offering special programming, on New Year's Eve:
Kidcity Children's Museum, 9 am-5 pm, Adults and children: $8; children under one year are free.                                                                                     119 Washington Street, Middletown 06457 / (860) 347-0495
The New Children's Museum, 9 am-5 pm, Adults: $14.75; children (2-12) $13.75                                                                                                                   950 Trout Brook Drive, West Hartford 06119 / (860) 231-2824
CT Science Center, 10 am-5 pm, Adults: $21.95; youth (3-17) $14.95       250 Columbus Boulevard, Hartford 06103 / (860) 724-3623
Jump Zone, Open Play from 10 am-1 pm, ages 6 and under. Rate: $10   15 Cheryl Drive, Canton 06019 / (860) 469-4439
Jumpin' Jonnies, Open Play from 10 am-6 pm, ages 2-12. Rate: $9        234 Talcottville Road, Vernon 06066 / (860) 875-5867