CT Go List: Best Things to Do with Kids in Connecticut in May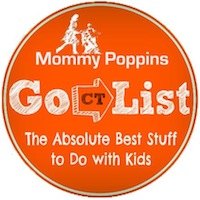 Our event calendar is a wonderful resource full of fun events happening all over Connecticut. May means Mother's Day and Memorial Day weekend, which we all know marks the beginning of summer and summer camps! You don't have to wait until the last weekend of the month for the fun to start. There are fairs and festivals everywhere you turn throughout May. Here are 11 of our most favorite things to do with kids in Connecticut this month. If you click through to the full listing you can then add them to your calendar. Have fun planning! Of course, our events calendar always has more fun listed each and every day of the month.
Friday, May 2nd - Sunday May 4th, Dogwood Festival, Fairfield For 79 years and counting, members of Greenfield Hill Congregational Church and thousands across Fairfield County have celebrated the beauty of spring with the Dogwood Festival. The Dogwood Festival offers a variety of entertainment for all ages featuring local history and culture. Admission is FREE and proceeds benefit charities near and far.
Saturday, May 3rd-4th - Pirate Days at Mystic Seaport, Mystic Decipher clues on the pirate treasure map to find concealed pirates and the hidden treasure chest; create your own pirate souvenir to take home (best for ages 4-10); dig for treasure at Australia Beach; and try your skill at walk the plank, pin the patch on the pirate, and other pirate games at our Playscape area
Saturday May 3rd -
Donkey and Mule Festival at Bishop's Orchards
in Guilford,
Guilford
There will be over 20 classes throughout the day, including halter, showmanship, coon jumping, costume, driving, riding, and obstacles. Along with the Donkey & Mule Show, wagon rides will be running throughout the day on a guided tour of the orchard with beautiful views of the apple trees in blossom.
Saturday, May 10th -
Caroline's Enchanted Garden Fairy and Wizard Festival, Bethlehem
A fun-filled afternoon of hands-on craft activities, music, storytelling, pony rides, puppetry, magic, woodland walks and more. Children and families can make a fairy house out of all natural materials to take home and follow the path through the garden of fairy house's made by staff and volunteers to the Fairy Village.
Saturday, May 10th - Celebration of Young Writers Event and Auction, Washington The evening will begin at 5 p.m. with a cocktail reception under a beautiful tent on the Washington Green. Featured celebrity readers will include Frank Delaney,  Jack Gilpin, Ellen McCourt and others who will provide readings of poetry and prose written by talented young writers from our area. The reception will include live and silent auctions via mobile bidding, with all proceeds benefiting ASAP.
Saturday, May 10th - Festival of the Arts at Quassy Amusement Park, Middlebury Sidewalk chalk art competition for elementary, middle and high school teams. Jazz bands will be performing in the Carousel Theatre and there will be a trash can art competition.
Saturday, May 10th -  The Hindley Happening, Darien The event includes carnival rides, games, cotton candy and snow cones, as well as a silent auction that includes donations from local merchants and individuals that range from fabulous vacations to personal training sessions to sporting event tickets.
Saturday, May 17th -Sunday May 18th - Annual Spring on the Farm Stamford Museum and Nature Center, Stamford Meet the latest additions to the Heckscher Farm family at Spring on the Farm. Watch as their flock of sheep gets its annual shearing and learn about what happens with their wooly coats. See firsthand how to turn wool into felt or yarn, among a variety of other hands-on demonstrations. There will be activities for all ages including storytelling, face painting, crafts, a plant and herb sale, and more.
Saturday, May 24th - June 8th - Robin Hood Springtime Festival, Guilford Fairgrounds
Bring the family to this Medieval Festival and learn the steps of courtly dance. Challenge the Black Knight to a duel and take arms in their "Smite the Knight" ring located at the Hitting & Stabbing Emporium. Stroll down our Kids Alley for games designed for our younger guests. Win an award and get knighted! Take the time to watch armored knights on horseback trying to knock each other off with colored lances. Cheer for your favorite knight.
Saturday, May 24th - Monday May 26th - Lobster Days, Mystic Seaport Crack your first lobster claw of the season at Mystic Seaport's butter-dribbling, shell-sucking, quintessentially New England Lobster Days during Memorial Day Weekend.
Saturday, May 31st
Wethersfield Fireworks -
Hartford County
Starting at 5pm, there will be festivities and local organizations there to celebrate Summer, our Community, and Wethersfield as a destination town to live, work and play.
[UPDATED 4/30/14]