Christmas Eve Activities in Fairfield County, CT 2012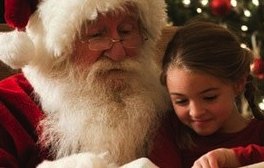 Ok, so let's just say you're one of those parents with your act together come Christmas Eve -- gifts purchased and wrapped, cards sent, feet up sipping eggnog by noon.  That, or you've got a bazillion things to do, and need to tell Daddy/Mommy/grandparents where to take the kids to blow off steam for a few hours.  Here are your options in Fairfield County:
Ok, this one should be well out of the way by now, but ...
Santa Appearances:
Darien Sport Shop, Darien 10am-1pm
McArdle's Florist, Greenwich 12-4pm
Danbury Fair Mall, Danbury 9am-6pm (break 1-2pm)
Stew Leonard's, Norwalk 10:30am-7pm
CT Post Mall, Milford 10am-6pm (break 1-2pm)
Trumbull Mall, Trumbull 10am-6pm (break 1-2pm)
First Congregational Church of Greenwich
This church in Greenwich has a Christmas Eve service for everyone, including the only Live Nativity we found -- at a perfect time for young children ... 10am.  Here's the church's schedule for the day:
10am:  Lessons & Carols – for our youngest families; Cherub Choir sings; White Gift Offerings; Live Nativity
4pm:  Family Service – Once in Royal David's City Nativity Pageant; Children's Choir sings; White Gift Offerings.
5pm:  Community Carol Sing around the Tree
8pm:  Communion and Carols; Youth Choir sings
11pm:  Candlelight Lessons and Carols; Chancel Choir sings
108 Sound Beach Ave, Old Greenwich, CT 06870
203-637-1791
CT's Beardsley Zoo and Stepping Stones Museum
These old standbys will have limited hours:
Zoo: 9am-1pm

1875 Noble Avenue, 
Bridgeport, CT 06610

203-394-6565
*Note Zoo will allow children in for FREE from 12/26 - 12/28 as an act of kindness following the Newtown tragedy.
Stepping Stones: 10am-3pm
Mathews Park, 
303 West Avenue
, Norwalk, CT 06850

203-899-0606
Sports Center of CT: Ice Skating and Lazer Tag
They've got a few open hours for these activities that should ensure sleepy children come the reading of 'Twas the Night Before Christmas.
Lazer Tag: 12-4 pm
Public Ice Skating 12-2:50pm
784 River Rd. (Rt. 110)
, Shelton, CT 06484

203-929-6500
The Melting Pot: 'Christmas Eve for the Kids'
Dunk your Christmas Eve dinner into cheese and chocolate ... while raising money for St. Jude's Children's Hospital!  The Melting Pot staff is donating all wages and tips to the Thanks and Giving Campaign -- pretty noble for a group working a holiday!  They will also have a 'balloon pop raffle' to benefit the hospital -- retailers providing prizes include the Darien Toy Box and The Stamford Center for Natural Health.  Open 11:30am - 10pm.
14 Grove Street, Darien, CT 06820
203-656-4774
First Congregational Church
This is one other church service that caught our attention.  The First Congregational Church of Danbury will have a Celtic Christmas with Dick Neal on mandolin and Tahlia Furman on fiddle.  7:45pm.
164 Deer Hill Avenue, Danbury, CT
203-744-6177