Chinese New Year Celebrations in Hartford County, CT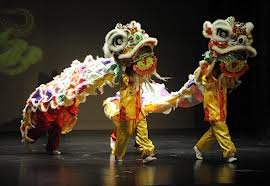 2013 marks the year of the snake on the lunar calendar! This year February 10th is the first day of the New Year for the Chinese celebration also known as the "Spring Festival".  Help ring in the Asian holiday with one of the following fun events in the Hartford County area.
The 7th annual lunar celebration at the Legislative Office Building Atrium in Hartford will be Wednesday February 6th from 5-7pm. You and your family can enjoy an amazing lion dance as well as other traditional entertainment. There will be light appetizers served by Indigo Indian Bistro of Manchester.
The Lutz Children Museum in Manchester will be celebrating the year of the snake on Tuesday February 5th from 4- 5 pm. Perfect for your child ages 5-8, they can examine beautiful Chinese artifacts from the museum's collection, create festive lanterns, and hear a story about the traditions and symbols of the holiday. Younger children aged 3-6 will be celebrating from 1-2 pm. They will be able to explore clothing and items from China originally collected by Hazel Lutz! In the tradition of the festival, they'll create decorations using colors and symbols to bring good luck and happiness in the Year of the Snake! The cost for members is $13, non-members is $15 for both events.
Celebrate the Chinese New Year at the Elmwood Community Center in West Hartford Monday February 11 at 1 pm. China Pan will cater the event and there will be fun live entertainment.
Although it's after the actual lunar day, celebrate a few days later on February 13th-14th at The Palace Theater in Waterbury where you can see Shen Yun, an amazing production that brings to life years of Chinese civilization through classical Chinese dance and music. Shen Yun is a can't-miss show with nearly 100 artists, 400 costumes, and the only orchestra in the world featuring both classical Western and Chinese instruments. Ticket prices range from $50-$120 and children under 4 are not admitted.
Celebrate the Asian New Year at the 2013 Taoist Healing Arts Fair on Saturday February 16th from 9- 5pm at the West Hartford Town Hall and Conference Center. There will be free hourly workshop presentations, over 30 exhibitors and informative tables, Tai Chi, Qi Gong and Martial Arts demonstrations, massage sessions, tea tastings, traditional Chinese music and dance performances and more! Tickets are $30 at the door or $20 online at wuhealing.com
The Imagine Nation Museum is having a Chinese New Year Celebration from February 13th-17th. All week celebrate by creating paper lanterns, dragons, good luck door hangers and more!
Kung Hei Fat Choy!