Chinese New Year Celebrations (Fairfield County)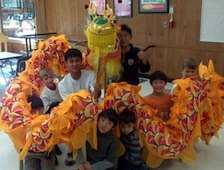 If your New Year's Eve was lame, or you need another shot at that resolution, take heart: Chinese New Year isn't until February 10!  A handful of local Chinese organizations and schools will usher in the Year of the Snake with elaborate celebrations for the whole family.  Or, you can keep it simple with some homemade Chinese lanterns and your favorite takeout. 
Years of the Snake: 1917, 1929, 1941, 1953, 1965, 1977, 1989, 2001, 2013.  For those of you shuddering at the thought of having a 'Snake' in the house (or bringing one into the world this year), consider that Chinese wisdom teaches it's a good omen, as the family will never starve -- 'Snakes' are shrewd businesspersons who are materially well-off!
Chinese New Year festivities:
Organization of Chinese Americans Fairfield Co. Chapter
They'll hold their Chinese New Year Celebration Dinner Dance February 2 from 5:30 pm to 11 pm at the Stamford Plaza Hotel, 2701 Summer Street.  Click here for tickets, or contact Miranda at 203-962-1533, miranda.classics@gmail.com
 
Chinese Language School of CT
Welcome the year of the Snake with CLSC on Jan. 27th, 2013 at the Stamford Hilton Hotel, 1 First Stamford Place.  For ticket info call 866-30-4906, or email info@ChineseLanguageSchool.org
Chinese School of CT
To be announced ...  Mommy Poppins will update you as soon as information is released!
Contact: Ms. Yan Mou
203-286-9565
ChineseSchoolCT@gmail.com
Western CT Chinese Association
Their event is set for Feb 16, 2013* at Newtown High School auditorium from 4 - 9pm.  The party's from 4 - 6, dinner's from 4:45 - 6, and the Chinese ethnic performances run between 6:30 - 8:30pm.  Registration is required to attend:
•Before Feb 8, 2013: $15/adult (>=18 yrs), $10/youth (6-17yrs old); free for young kids (<6 yrs old). Max: $60 per family
•Late (after Feb 08) or on-site registration: $20 per person or $80 per family and free for kids (<6 yrs old).
12 Berkshire Rd., Sandy Hook, CT
WCCACNY2013@gmail.com
*Note: this was a date change, as the party was originally planned for 2/23/13. (updated 1/16/13)
Finally, a couple of restaurant recommendations from locals in the know:
Hunan Cafe
This place is on the small side, but it's clean and my tipster says it's as close to real Chinese food as you'll get in Fairfield County.
1233 East Putnam Avenue  Riverside, CT 06878
203-637-4341
Aberdeen's
This is in nearby Westchester County, but it's the next best thing to New York City.  There's also a great Chinese market right across the street!
3 Barker Ave, White Plains, NY 10601
914-288-0188