Celebrating Thanksgiving in and around New Haven, CT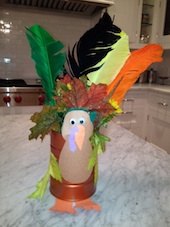 With the last of our Tootsie Pops headed out the door from Halloween, we are looking ahead to Thanksgiving.  The New Haven area has a variety of interesting, fun and kid-friendly holiday events…so we'll be hopping on the Merritt Parkway and heading to New Haven for some Thanksgiving fun!
Fantasy of Lights, New Haven, CT
Running from Nov. 22nd thru Dec. 31st, visit Lighthouse Point Park to see the spectacular holiday light display.  The annual display will be open Sunday – Thursday from 5pm-9pm, and Fridays and Saturday nights from 5pm-10pm.  The entry price is $10/car. 
2 Lighthouse Road, New Haven, CT, 06512, 203.777.2000
Yale Bulldogs Game, New Haven, CT
We love watching college sports!  Go see the Yale men's basketball team play Bryant on Dec. 4th, 7:30pm. Or check out the women's team as they play Bryant starting at 5pm.  Tickets run $8-10. 
Payne Whitney Gymnasium, 70 Tower Parkway, New Haven, CT, 06511, 203.432.1400
Thanksgiving Craft, Beacon Falls, CT  - UPDATE
Saturday, November 17th, kids in grades K-5 are welcome to come to the Beacon Falls Library and make a pilgrim hat centerpiece for their Thanksgiving table.  Visit the library's website to register for this free event.
10 Maple Avenue, Beacon Falls, CT, 06403, 203.729.1441
Make Your Own Soaps and Bath Salts, Trumbull CT
Home made gifts are the best, right?  Send your tween (or teen) to this class at the Trumbull Library.  Saturday, November 16th, from 3-4:00.  Register in advance - space is very limited!  
33 Quality Street, Trumbull, CT 06611, 203.452.5197
Nutcracker Breakfast, Hamden, CT - UPDATE
November 17th enjoy a Nutcracker Breakfast – complete with performances and appearances from the characters of the Nutcracker Ballet.  Seatings are at 8, 9 and 10, and tickets are $10/adult (or $8/adult in advance), and $5/child (ten and under).  
Knights of Columbus Hall, 2630 Whitney Avenue, Hamden, CT, 06518, 203.699.8888