Best Indoor Play Spaces in New Haven County, CT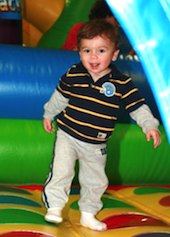 If your kids are anything like my two bundles of non-napping energy, you find there are days when you just need to let them run free – but preferably within a confined indoor space. The winter months can sometimes cause our children to become sluggish. Sub- zero weather makes outdoor venues and parks less than ideal for the kids' much-needed exercise. So, many days I look to indoor play spaces to sufficiently tire my children out. There are a few notable ones right here in New Haven County. Inexpensive and varied, each indoor play space has its own charm. They cater to different age groups; you just need to find one that is right for your brood. Thankfully, we are here to help. For more indoor fun check out our Connecticut Indoor Play Guide.
Bounce houses galore can be found at Fun Factor in Middlebury. There is a small arcade for the older siblings who may not be "into" bouncing anymore. There is a snack bar and free WIFI for Mom and Dad. Socks are always required to play. Children under 2 are free with another paid admission, but alone are $5. They are open Monday through Thursday from 10am to 3pm, with an admission of $5. On Fridays the price is still only $5, but their hours are 10am to 7pm. Saturday and Sunday the admission is $8, with hours of 9am to noon on Saturday and 10am to 6pm on Sunday.
Fun Factor is located at 950 Southford Rd Middlebury, CT 06762.
Andie's Bounce Barn is located in Seymour and is another inflatable play place for your kids aged 2 to 12 years. Pre-school play dates (ages 6 and younger) are Mondays 10am to 2pm with a cost of $7 per child. Their daily open play is $10.00 per child. Admission for children under 2 is free with a paying sibling, and without a paying sibling is $5. Parents are always free … you have to love that! Make sure the kids bring some socks, since those are required to play. Open play hours are: Monday 10am to 2pm; Sunday, Tuesday, Wednesday, and Thursday 10am to 4pm; Friday and Saturday 10am to 5pm.
You can find Andie's at 32C Progress Ave. Seymour, CT 06483.
If having some variety for your children is a concern, then Sports Centers of Connecticut in Shelton is definitely for you. Under one roof, you will find the world's only double-decker ice skating facility, and includes facilities for hockey, golf, mini-golf, batting cages, bowling and laser tag. For those not as into sports, they also have a game zone, and "Glitter" where your children can use their imaginations to create arts and craft projects. Talk about a productive afternoon! For specific schedules and pricing of the different activities, you would be best to check their website.
The center is located 784 River Rd. (Rt. 110) Shelton, CT 06484.
Småland at Ikea in New Haven is a wonderful treat for the kids (and for parents who find themselves in need of some home goods), a play area with the theme of an enchanted Swedish forest. It is free of charge for 1 hour, and your child must be between 4 and 10 years old and potty trained.  The store hours are Monday through Sunday, 10am to 9pm.
Ikea is located off I-95 at 450 Sargent Drive.
Connecticut Sportsplex is located in North Branford. Here they offer Family Fun Night on Sundays from 5pm to 8pm, at a cost of only $12.50 per family member. Admission includes unlimited Laser Tag, play on the giant playscape, 60 tokens for the arcade and your food! The Sportsplex also houses batting cages and something called cyber sport, which according to their website is a combination of "lacrosse, basketball and hockey played with two teams driving custom cars on a 40 feet x 60 feet court" with up to 10 players at a time (5 players on 5 players). For their hours, which change with the season, please check their website.
216 Foxon Road, North Branford.