Yummy Kids' Birthday Party Ideas in CT (Fairfield County)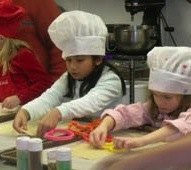 Parties center around food anyway, so why not let the kids cook and bake it?! The birthday boy or girl with their posse of sous chefs will get their hands in the mix, cooking up all flavors of fun. Some options are solely for sweet tooths, others provide full-course meals. All of them take the mess off your hands, whether it's held in your home or on site in Fairfield County.  Best of all, this kind of party suits any age -- everyone's gotta eat! For even more fun party ideas check out our Party Guide!
Plus, what could be cuter than your six-year-old (or 16-year-old) in a chef's hat?  Here are the food-based birthday party vendors we found, ordered from north to south.  
Michelina's - Danbury
Tiny pastry chefs take over this European pastry shop in Danbury for 90 minute soirees.  You have three options:  cut-out cookie party (age 4 and up), where the kids measure and mix all their own ingredients; cake party (age 8 and up), where children decorate and take home their very own cake; or the pizza pie party (age 8 and up) where kids make their own dough and top their personal pizzas with whatever they'd like.  Cake, juice, paper products, chef hats and aprons included.  $285 and up.  Reserve online or by phone/email.
128 East Liberty St.
Danbury, CT 06810
203-834-CAKE (2253)
info@michelinasbakery.com
Food Jules - Monroe
This mommy has been building a business based on organic jams, homemade hot fudge and granola ... and now she's teaching kids how to enjoy the kitchen!  The birthday boy or girl gets to create a menu/theme -- two savory items and one sweet (for the birthday candle, of course).  Guests are placed in teams to divide and conquer the courses. Food Jules will come to your home, or you can host in a community center, like the library or a firehouse.  Food, supplies, recipe cards and cleanup included.  Parents bring the paper products and favors. $225 for 10 children.  Additional $10/each.
The Cookie Workshop - Trumbull
This nut-free bakery, also has gluten, egg and dairy-free doughs available!  Step 1: Roll, decorate and bake your own cookies.  Step 2: While they're in the oven, devour a cupcake tree and decorate your cookie take-out boxes! Party coordinator, postcard invites and coordinated paper products included.  $20/person; 10 minimum.  Add pizzas, aprons or chefs hats for an additional fee.  10% discount Tues-Fri. 
100 Corporate Drive, B104
Trumbull, CT 06611
203-452-8872
info@cookieworkshop.com
Sweet Rexie's - Fairfield
Imagine telling little Johnny or Janie they're having a party IN a candy shop ... then sit them down and explain there will also be face painting, tattoos, crafts, decorations, balloons, games, pizzas, make-your-own sundaes, candy favors and prizes ... they'll never recover!!  (And you'll never be able to top it)!  $325 for 8 children.  Additional $24.95/each; max 15 children. 
1552 Post Rd
Fairfield, CT 06824
203-254-3254
Cindy's Sous Chefs - Westport
When Chef Cindy shows up, she's armed with more than a block of knives.  She's also an educator and an actress, which means she knows how to make this FUN!  The guest of honor has the option to play the role of guest chef on 'Chef Cindy's LIVE Cooking Show.' Choose from five themes: Japanese blow-out, Italian Party, Tea Party, Chocolate Buffet or Mexican Fiesta. 90 min, set-up and clean-up included.  $600-950 for 14 children, depending on chosen theme.  Extras like 'spaghetti' ice cream and chocolate molding also available for an additional fee. Get reservation information via the website.
Aux Delices - Stamford
You may recognize Aux Delices, as they have locations scattered across lower Fairfield County. They recently added a commercial kitchen in Stamford where you can host a cooking party for your birthday boy or girl, or Aux Delices will bring the soiree to you.  Classes are hands-on and emphasize easy, interesting and seasonal foods.  20 guests maximum. 
23 Acosta Street
Stamford, CT 06902
203.326.4540 x108
lmanheim@auxdelicesfoods.com
The Kiddie Kitchen - Stamford
Choose your menu from several ethnic themes, or throw a tea party, PJ Breakfast party or anything else you want to come up with!   Guests will make three items on any given theme.  The Kiddie Kitchen solely comes to you, and provides tables, cooking supplies, all ingredients, custom invites, recipe cards, chef hats/aprons, and cooking tools for party favors.  Parties last about two hours and they do all set-up and break-down.  The only thing you provide is a cake ... or you can order cupcakes for an additional fee.  Guests won't just have fun, they'll learn technique, cleanliness, creativity and confidence in the kitchen.  4 years old and up. $490-535 for 10 guests. depending on theme.   Additional $40/each.  Reserve online or by phone/email. 
(203) 347-8225
info@thekiddiekitchen.com
Originally published 7/14/12.