Where to Throw Great Birthday Parties in Connecticut (Hartford County)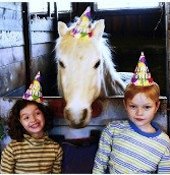 Birthdays are so much more fun when you're a child. The planning, the excitement and the happiness of actually wanting to get another year older, it is such a magical time. Your options aren't just McDonalds and Chuck E' Cheese anymore, the possibilities are endless. There are so many great places in the Hartford county area to celebrate and truly make it a special day your child will remember.
Sundae Spa in Waterbury is an interactive spa experience for your little princess. They offer traditional spa services while also being able to make yummy sweet treats. They have a variety of spa packages to choose from and fun party rooms. All parties include 8 guests, private staff, two/three hours of private party fun, invitations, party favors, and sundae dessert. Check the website for rates depending on package.
2457 East Main St. Waterbury, CT 06703
Host a special themed party at the Backstage Academy. Some of the fun party ideas are Fairytale Princess Story, Under the Sea, High School Musical, disco, Disney Celebration, Pirate Adventure, American Idol and much, much more! Every party includes music, movement, games and fun all created especially to meet the needs of each child. The birthday parties are for ages 5-13, ranging from $150 to $300 and are designed to fit each age group.
3320 Berlin Turnpike Unit B Newington, CT 06111
Stew Leonard's offers birthday parties in their private room with fun games to play, crafts, and a visit from WOW the Cow. You can opt to choose from their general party with themes like pirate, princess, makeup and dance or crazy for cupcakes. For an older child who enjoys cooking you can host a cooking party with theme choices of Italian, fun finger foods, Mexican, or pizza party. The general party is $240 for 10 children and the cooking party is $270, both including all paper goods, invitations, decorations and more! Call the store for more details or to reserve your party!
3475 Berlin Turnpike Newington, CT 06111 (860)760-8100
One of Connecticut's largest indoor and outdoor inflatable party gym, Jump-N-Jammin', in Bristol is a great place to have your child's next birthday party. A gym filled with inflatables, a WII game room and private party rooms book your party now to have a jumping good time. During the warm summer months they even have water slides available.
815 Pine St. Bristol, CT 06010
For your tiny dancer have a party at the Studio of Dance Ballet School in West Hartford and let them create a magical day for your child and their friends with a Ballet birthday party. Choose from a package that includes just the studio space and a 45 minute dance class with instructor for $175 or a $250 package that includes the same as well as all paper products, cake and ice cream.
11 South Main St. West Hartford, CT
At the Stone Age Rock Gym there are two levels of indoor rock climbing parties offered: one for ages 6-12 and one for ages 13 and up. Ages 13 and up are eligible for safety belay courses to learn how to control the ropes themselves.
195 Adams St. Manchester, CT 06042
Have your child's next birthday party at TimberGyms, where you can enjoy a fun time at their indoor playground, search for treasure and be a part of a magic show! Food, beverages, cake, party favors, hosts and fun activities are all included.
94 Pane Rd. Newington, CT 06111
Play around the farm and ride ponies at Pleasant View Stables in Kensington. The children can help brush the ponies and ride them for a memorable birthday event.
900 High Rd. Kensington, CT
Choose your child's favorite theme and Gymboree will create a private, personalized party experience filled with kid friendly activities and you won't even have to clean up! Located in Farmington and with a variety of themes to choose from it should definitely be a fun party choice.
116 West Farms Mall Farmington, CT 06032
Located in downtown Hartford the Connecticut Science Center will help to create an exciting and memorable party that's hassle free for you! Geared for children ages 6-12 there are a variety of party packages to choose from. Check the website for full details.
250 Colombus Blvd. Hartford, CT 06103
Happy Birthday!