Things to do with the Kids on Christmas Eve and Christmas Day in Connecticut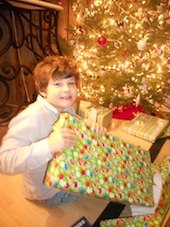 It's here! The "most wonderful" time of year! The decorations are up, the menu is planned and (most) of the gifts are wrapped. After much research (and a little bit of panic) I was able to get our "media issues" resolved so that we can watch "It's a Wonderful Life" on the big screen (all by my self!) Bring it on! I'm ready for you Christmas! And I hope you are too (or are on your way to finishing up). No matter what you celebrate, Hanukkah, Kwanzaa or a combination of the above, may you have a wonderful holiday season.
Today is Winter Solstice and despite the days getting colder and this being the official start of Winter, the good news is that the days will begin to get longer again.
The spirit of giving is all around us this time of year and we've done a post for those who would like to help others in the Litchfield County area. If you are in need of a Christmas Tree and would like to cut your own we have suggestions in Hartford, Fairfield and Litchfield Counties.
We took a daytrip to the Regina Laudis Creche in Bethlehem and suggest it to all, no matter what your religious beliefs. It's truly a beautiful historical replication of the birth of Jesus, created in the early 1700's in Italy, it's been lovingly restored and is a sight to see.
Thinking ahead to New Year's? We've rounded up some family friendly events for those of you in Fairfield County.  First Night Celebrations in Danbury and Westport look to be particularly fun events for all. Looking for restaurant suggestions in Litchfield County? We've compiled some family friendly suggestions that will satisfy the foodie in you. Sometimes, it's just not meant to be to have Christmas dinner at home and a restaurant is the best option. We've listed some Fairfield County Restaurants that are open on Christmas Day for you.
It doesn't look to be a great week for snow activities such as skiing or sledding however check with your local mountain. Mohawk is making their own and we've already had one outing there this season.
Here's a list of activities for your family over the weekend:
SATURDAY, 12/24
McArdle's Florist & Garden Center
Connecticut Trolley Museum
SUNDAY 12/25
Downtown Cabaret Children's Theater
Check back for for fun things to do next week over break and remember to like us on
Facebook
and
Twitter
. I am grateful to all of our CT subscribers. Share us with your friends this Holiday Season and the best to you all in 2012!