Things To Do With Kids in New London County, CT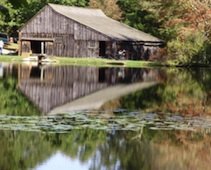 Thank you to our guest writer, Therese, who is a stay at home mom with two beautiful little girls in South Eastern CT. Her blog is about their lives as they explore the area and grow together as a family.
Having not grown up in Connecticut, it has been a new experience raising my children here and looking for things to do with them in the area we call home. Fortunately for us, New London County has a lot to offer families,
From awesome old fashioned ice cream shops where you can meet the cows who helped make your ice cream to great places for a family hike, fish or skate to Peking Tokyo for the best sushi in the area there's a plethora of choices. One of our favorite things to do is to head down to see the drawbridge open in Downtown Mystic. Kids will love to watch the activity on the Niantic River over dinner at The Dock followed by ice cream eaten on the boardwalk. No matter where you end up, there will be lots of good food and good fun for the whole family. Here are some ideas for great kid friendly activities to try while in New London County:
15 Things To Do with Kids in New London County
1) Visit the Children's Museum of Southeastern Connecticut in beautiful Niantic.
2) Head over to Mystic for a great nature hike at the Denison Pequotsepos Nature Center and learn about local wildlife in their natural history museum.
3) Pick your own fruit at Scott's Yankee Farmer in East Lyme.
4) Cool off in Colchester at the Recreation Complex's Splash Pad.
5) Experience the first nuclear powered submarine at the Submarine Force Museum in Groton.
6) Take a self-guided tour at the Connecticut College Arboretum in New London.
7) For an artful experience, visit the Florence Griswold Museum in Old Lyme.
8) Camp by the beach at Rocky Neck State Park in East Lyme.
9) Take a day trip on a ship with Mystic Whaler Cruises in New London (ages 5 and up).
10) Visit NASCAR right in Waterford at the Speedbowl.
11) Learn about native and natural history at theMashantucket Pequot Museum and Research Center.
12) Enjoy a morning at the beach at McCook Point Park and an afternoon on Main Street in Niantic.
13) Explore the "last remaining significant piece of land along the Connecticut coastline at Bluff Point State Park in Groton.
14) Observe an authentic water-powered sash sawmill in Ledyard.
15) For the history buff, head to Fort in New London and Fort Griswold Battlefield State Park in Groton.