Things to do for St. Patrick's Day (Fairfield County)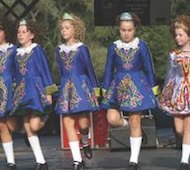 I have wee kids.  Wee, as in, it's taking some convincing that shamrocks are indeed plants, not distant cousins of granite or shale.  Suffice it to say, we probably won't be experimenting with corned beef and cabbage this St. Patrick's Day (more like green bagels from Bruegger's). That being said, my little people are more than ready for the St. Paddy's folklore and fun offered up by several Fairfield County communities this month.  You can get your Gaelic on at parades, scavenger hunts, craft times, a fun run (Spiderman is registered, by the way), and Irish music sessions. Slainte!
ST. PATRICK'S DAY PARADES
Stamford
Saturday, March 6, 2015
12 noon
Route: Columbus Park - North on Atlantic/Bedford 
Milford
Saturday, March 14, 2015
1pm
Route: Downtown Milford River Street
Bridgeport
Monday, March 17, 2015
12 noon
Route: Broad Street - Fairfield Ave. - Main Street
Greenwich
Sunday, March 22, 2015
2pm
Route: Town Hall to Route 1 Post Rd to Greenwich Ave. Ends at Steamboat Rd.
Danbury
TBA
2 pm
Route: Rogers Park to Town Hall parking lot.
ST. PATRICK'S DAY EVENTS
Celtic Knots and Symbols Craft
Your preschooler can keep her hands busy at this free story time and craft, while learning a little about the art and meaning of Celtic knots and symbols.
Saturday, March 14, 2015
10:30 - 11:30am
Byram-Schubert Library, 21 Mead Ave, Greenwich, CT
203-531-0426
Lucky Leprechaun Tales
As you know, everybody is Irish on St. Patrick's Day!  Wear your green and enjoy music, stories, food and crafts. Recommended for ages 2 1/2 - 6. The cost is $7.50, and registration is required.
March 14, 2015
10-11am
Newtown Youth and Family Services
15 Berkshire Road, Sandy Hook, CT, 06482
203-426-8103
Paul Byrom, formerly of Celtic Thunder
Treat the family to an extra special performance by Irish Tenor Paul Byrom (formerly of Celtic Thunder -- the 'Swanky Tenor').  Tickets are $59 (Use PROMO CODE: BYROM for a 15% discount).
Saturday, March 14, 2015
5:30pm
Downtown Cabaret Theartre 263 Golden Hill Street, Bridgeport CT , 06604
203-576-1636
Irish Music
The Kerry Boys perform Irish instrumental music.
March 15, 2015
3:30 - 4:30pm
Fairfield Public Main Library
1080 Old Post Road
Fairfield, CT 06824
203-256-3161
St. Patrick's Day Classic
Half-Mile Kids Fun Run, 1 mile Youth Race and Family Fun Run
Join Spiderman for the jaunt. T-Shirts, race numbers and ribbons for registrants. Special medals for runners who beat Spiderman!
Sunday, March 15, 2015
10:15 am
Jennings Beach
Fairfield, CT
Shamrock Run for the Goal
This is the 3rd annual Brookfield High School lacrosse team event.  They plan to use the proceeds for new equipment, and Family & Children's Aid.
Sunday, March 15, 2015
8:45am
Brookfield High School 45 Longmeadow Hill Road, Brookfield CT
$26 in advance/ $30 day of.
Aux Delices Kids Cooking Class
What's a St. Paddy's celebration without the food?  Your KIDS, 8 and up, can learn to cook traditional fare at Aux Delices: Fish and Chips, Irish Soda Bread, Crispy Bacon and Roasted Root Veggies, and Shamrock Cookies.  Cost $65.  (Or, if you'd rather just go out ... that list is below)!
Sunday, March 15, 2015
4-6pm
Aux Delices
23 Acosta Street, Stamford, CT 06902
St. Patrick's Day Crafts
Celebrate with some St. Paddy's day craft making.  Ages 4 and up. Drop-in.
Tuesday, March 17, 2015
4 - 5pm
Darien Library
1441 Post Road
Darien, CT
(203) 669-5235
St. Patrick's Day at the Zoo
Anyone in the Irish spirit wearing green receives 15% off admission. Don't miss the educational 'Green Animal' scavenger hunt.
Saturday, March 17, 2015
9am - 4pm
Connecticut Beardsley Zoo

1875 Noble Avenue

Bridgeport, CT 06610
203-394-6565
St. Patrick's Scavenger Hunt
Celebrate St. Patrick's Day and learn a wee bit about Irish folklore as you search for hidden clues in Ballard Park. Prizes, face painting and pots of gold!
March 22, 2015
2 - 3 pm
Ballard Park - Gazebo, Ridgefield
Registration required
Member Price: FREE Non-Member Price: $7.00
Sponsored by the Discovery Center at Ridgefield
203-438-1063
Traditional Irish Food
Hankering after some other traditional Irish fare?  Tigin's in Stamford, O'Neills in South Norwalk, Bridgeport's the Field restaurant, and Molly Darcy's in Danbury are always ready to fill your bellies with soda bread, corned beef and cabbage.  We will update you on this year's offerings as their menus become available.
Tigin Pub, 175 Bedford Street, Stamford, CT 06901
203-353-8444
O'Neill's Pub & Restaurant, 93 North Main Street, South Norwalk, CT
203-838-0222
The Field, 3001 Fairfield Avenue, Bridgeport, CT 06605
203-333-0043
Molly Darcy's, 39 A Mill Plain Road, Danbury CT 06811
203.794.0449
Finally, if you can't take anymore green toilet water or trails of gold glitter, here's the lowdown on putting your crafty household leprechauns out of commission...good luck!
Originally published 3/7/12.