Thanksgiving Day: Dinner Out, Anyone?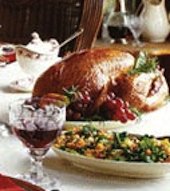 We love the old-fashioned Thanksgiving traditions; splitting the wishbone, de-lumping the gravy, and busting out the fancy china.  But we also love making new traditions...to that end, anyone up for dinner out on Thanksgiving?  If so, you're in luck!  A handful of Fairfield County, CT restaurants are open Thanksgiving Day, and this year, a meal out may be the new tradition you're looking for! (We've rounded up some popular places in Litchfield County too.) Consider one of the following restaurants, and don't forget to call ahead for reservations:
1. Bernard's, Ridgefield (Fairfield County)
Bernard's is one of our favorite special occasion restaurants. Whether it's dinner in the formal Bernard's restaurant downstairs or in the more casual Sarah's Wine Bar upstairs, the classic yet imaginative French food always delights. For Thanksgiving, they will be serving a prix fixe menu from noon to 6:30 pm that hits standards like roasted turkey with stuffing, but also includes a pumpkin-seed encrusted filet of halibut. There is a separate children's menu that includes family favorite options such as pasta and fruit salad. $75 for adults; $40 for kids.
20 West Lane, 203-438-8282
2. The Capital Grille, Stamford (Fairfield County)
From noon to 9pm, The Capital Grille will offer a special Thanksgiving menu of classic American dishes for $36 per adult/$15 per child. The a la carte menu will also be available.
230 Tresser Blvd, 203-967-0000
3. Harbor Lights, Norwalk (Fairfield County)
This lovely waterside restaurant in Norwalk will be offering a special, three-course Thanksgiving day menu from noon to 8pm, that includes pumpkin tortellini, slow roasted turkey, baked ham, and more. It is $39 per person.
82 Seaview Avenue, 203-866-3364
4. The Hopkins Inn, New Preston (Litchfield County)
The historic Hopkins Inn overlooks the beautiful Lake Waramaug and surrounding Litchfield Hills. They will be serving an appetizer, entree and dessert for $47, and menu items include the traditional roast turkey as well as salmon,  wienerschnitzel, piccata milanaise, and more. All of the entrees come with the traditional sides. For children they also offer grilled cheese and pasta. The children's price is either $15.00 or $21.00 depending on the entree and it includes a dessert.  The meal will be served from 11:30 until 7pm, and reservations are required.
22 Hopkins Road, 860-868-7295
5. L'Escale, Greenwich (Fairfield County)
If you're looking for an elegant Thanksgiving feast, head south to Greenwich's L'Escale.  Attached to the prestigious Delamar Hotel, the dining room at L'Escale overlooks Greenwich Harbor.  The Thanksgiving prix fixe menu will run you $85/adult and $25/children under twelve, and will be served from noon to 7pm (the last seating will be at 5:30).  
500 Steamboat Road, 203-661-4600
6.  Red Barn, Westport (Fairfield County)
The Red Barn Inn in Westport has been serving their Thanksgiving dinner for years.  The Inn offers a homey atmosphere and traditional home-style food.  The menu is a la carte, and prices run from $33-$43, with a children's menu available for $16.95. Reservations are must, and the event will last from noon until 6pm.
292 Wilton Road, 203-222-9549
7. SoNo Brewhouse, Norwalk (Fairfield County)
Offering a more casual setting is the Sono Brewhouse. The space features antique German copper brewing kettles whose glimmer and shine make even a dreary day festive. The Thanksgiving feast begins at noon, with subsequent seatings at 2:15pm and 4:30pm. The price is $42.95/person.  
13 Marshall Street, 203-853-9110
8. Tavern on Main, Westport (Fairfield County)
This restaurant right on Main Street in the middle of downtown Wesport offers a traditional New England atmosphere in a historic building dating back to 1800. Their take on American cuisine is inviting and delicious. For Thanksgiving they are offering a three-course prix fixe menu for adults that is priced at $55 per person. The separate kids' menu is $30 per person.
150 Main Street, 203-221-7222
Originally published 11/13/2011.