Things To Do Over Thanksgiving Break in Connecticut (Litchfield County)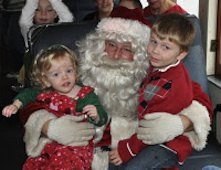 Before the wacky snow storm hit CT by surprise our school gave the kids the entire week of Thanksgiving off. In order to make up for lost school days they now have to attend on Monday and Tuesday. That's okay, we still have 5 days off. Plenty of time to celebrate by doing one or two of these fun activities in Litchfield County. Have a happy (and hopefully snowless) Thanksgiving everyone!
1. Create a gingerbread house at the Silo Cooking School at Hunt Hill Farm in New Miford. Looks like there aren't a lot of spaces left so call asap if interested.
Hunt Hill Farm Trust, 44 Upland Road, New Milford CT 06776-2199;  860.355.0300
2. Go to an indoor play park at Planet Play in New Milford. They have two giant slides, web crawls, tunnels, Toddlertown, two cool inflatables, Top Flight Raceway and more.
Top Flight Sports Center,
 17 Pickett District Road, 
New Milford, CT 06776 860-350-9121
3. Travel on a journey to Santa's Train Workshop where Santa will board and greet everyone during your hour and quarter ride on an antique coach. There is a festival of light displays inside and outside the train. Railroad Museum of New England
Naugatuck Railroad Museum of New England ,242 East Main Street, Thomaston, Ct 06787
4. Check out the Gingerbread House Festival throughout the town of Kent and pick up deliciously warm cocoa and a morsel of belgian chocolate at Belgique. Register at the Kent Memorial Library for FREE babysitting from 12-4 on 11/26 to give you time to get some local holiday shopping done. Don't miss Three Monkeys and Me's new toy store addition to their lovely clothing and accessories boutique. New! The Millstone Bakery has just opened and their cupcakes, croissants, loaves of bread, quiches etc. are just amazing!
Main Street, Kent, CT
5. Go see the Golden Dragon Acrobats at the art deco Warner Theater in Torrington. Representing the best of a time honored tradition that began more than twenty-five centuries ago, the Chinese Golden Dragon Acrobats combine award-winning acrobatics, traditional dance, spectacular costumes, ancient and contemporary music and theatrical techniques to present a show of breathtaking skill and spellbinding beauty.
Warner Theatre, 68 Main Street, Torrington, CT 06790 860.489.7180
6. Create a wooden sculpture in Village Center for the Arts in New Milford's Drop In Artist Studio. Clay building and paint-your-own pottery is also available.
Village Center for the Arts, 12 Main Street, 
New Milford, CT 06776 
(860) 354-4318
7. Visit a Neopolitan Creche that was made in 1720 at the The Abbey of Regina Laudis in Bethlehem. The Crèche was  given to the Abbey in 1949 by Loretta Hines Howard in memory of her husband.  Mrs. Howard also gifted the Metropolitan Museum of Art with a similar Crèche some years later, one that is famously the centerpiece of the Museum's Medieval Galleries every Christmas. The creche is open 10am-4pm daily in a beautifully restored old barn.
The Abbey of Regina Laudis, 73 Crane Hollow Rd, Bethlehem, CT
8. Check out The Muppets, Arthur Christmas or Happy Feet 2 at the fun little Art Deco Bank Street Movie Theater. Afterwards walk across the street to check out PLAY, a terrific little toy store for kids of all ages. For a treat walk over to 60 Railroad Street to The Sweet Spot for some delicious pumpkin chocolate chip cookies or vanilla chai cupcakes. Their ice cream selection isn't too shabby either! On 11/26 attend the Tree Lighting on the South Green starting at 5:30.
Bank Street Theater 46 Bank Street, New Milford, CT 06776 (860)354-2122
9. Holiday/Winter Ice Skating – Holiday ice skating is offered at Kent School ice rink. A park pass is required ($35 for Kent residents; free to Kent residents ages 65 and older; $65 for non-residents or $5/person for a day pass) and can be purchased in the Park and Rec office or at the rink during skating times.
The 2011 holiday ice skating schedule at Kent School is as follows:
Nov. 22,23: open skate, 10 a.m.-noon; sticks and pucks, 12:30-2:30 p.m.; Nov. 24-25: sticks and pucks, 10 a.m.-noon; open skate, 12:30-2:30 p.m.; Nov. 26: open skate, 12:30-2 p.m.
Kent School, 1 Macedonia Road, Kent, CT 06757