Performing Arts Camps in Connecticut (Hartford County)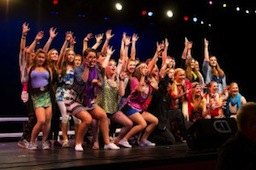 If you're looking for a summer camp for your budding thespian or tiny dancer there are a variety of performing arts summer camps in the Hartford county area. It will be a great way to channel their creative energy and spend the summer doing something they enjoy. Check out this list of camps that offer a fine arts focus including drama, dance, theater, music and more.
Backbeat City in Glastonbury is a performing arts center that challenges their students to build confidence and community. Besides the many great programs at their school they also offer a fun summer day camp.
80 Eastern Blvd. Glastonbury, CT 06033
The Filmmakers Inc has a division in Farmington that offers their program experience in the camp setting. The Farmington summer film program gives its young filmmakers the opportunity to explore the filmmaking creative process, including script writing, pre-production, acting and producing films, and provides them with the skill and confidence to be a part of the growing community of young filmmakers in Connecticut. Check back the website after February 21 for the finalized summer 2012 date sessions.
The Hartt School in West Hartford offers a selection of engaging summer programs for children interested in music, theater or dance. Check the website for more information regarding times and rates.
200 Bloomfield Ave. West Hartford, CT 06117
The Hartford Children's Theater has a fun summer program offered for children ages 3-5, those going into grades K-3, another for those going into grades 4-7 and a teen program, for students going into grades 8+ that focuses on acting, singing and dancing.
360 Farmington Ave. Hartford, CT
Simsbury Performing Arts has a summer program hosted at the Tariffville Elementary School for children ages 6-12.
42 Winthrop St. Tariffville, CT
Lights, camera, Action!