Indoor Play Areas in Connecticut (Hartford County)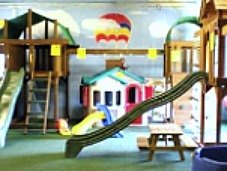 Just because it's winter doesn't mean that you and your family have to go into hibernation. There are some great indoor play spaces in the Hartford area where your active child can burn off excess energy climbing, bouncing, running, and jumping. He or she might even take a nap for you later! Also, check out the list we've compiled of indoor play places specifically for big kids in Hartford County. For even more indoor fun check out our Connecticut Indoor Play Guide.
TimberGyms in Newington, a retail establishment for playscapes, opens its showroom to the public during open play times. Kids can climb on elaborate playscapes, including a wooden pirate ship,  and jump in the bounce house. Open Monday-Friday, 10 am-4 pm. Admission: $7 per child. Discount Membership passes also available.
94 Pane Rd., Newington, CT 06111 
Buckland Hills Mall has a free, woodland-themed indoor play area made of soft foam. Children must be under 42" to enter. In the food court area, the mall also has a large carousel with a variety of animals and 2 grand chariots in addition to the traditional horses. 
194 Buckland Hills Drive, Suite 2500, Manchester, CT 06042 
Nomad's Adventure Quest, a large indoor entertainment facility, features laser tag, glow-in-the-dark mini golf, bowling, a rock wall, a billiards room, 2 large basketball courts, bumper cars, 10 bounce houses, and over 50 arcade and video games. There is also a 3-level soft play area and playscape for younger children. Open Monday-Wednesday, 4-10 pm; Thursday, 4-11 pm; Friday, 4 pm-midnight; Saturday, 10 am-midnight; and Sunday, 10 am-10 pm.
100 Bidwell Rd., South Windsor, CT 06074 
My Gym, a popular children's gym facility that offers classes for babies through elementary school ages, also has free "practice and play" times. Babies and children up to age 7 can explore fun equipment safely outfitted with mats and a spring floor. Admission for children currently enrolled in classes is free; $5 for members, and $10 for nonmembers. Glastonbury location free play hours: Monday, 5pm; Tuesday,12:10 pm; and Thursday, 12:20 pm & 3:45 pm. West Hartford location: 4:15 pm, Monday; 6 pm, Wednesday; and 11:15 am, Thursday. Check the web site for the most updated times, as the schedule changes periodically. 
256 Oakwood Drive, Suite 1, Glastonbury, CT 06033
150 South Main Street, West Hartford, CT 06107
For an exciting way to get some physical activity, try rock wall climbing. Stone Age Rock Gym in Manchester, with 4,500 square feet of textured climbing walls, offers climbing packages geared toward children ages 6 and up. Open Monday-Friday, noon-10 pm, and Saturday & Sunday, 10 am-10 pm. 
195 Adams St., Manchester, CT 06042
The following bounce houses offer a variety of inflatables and open play times:
Jump-n-Jammin has inflatables as well as a game room with foosball tables, an air hockey table, and Wii game stations with 47"LCD screens. Admission is $10. Hours for ages 2-18: 10 am-noon, Wednesday-Friday; 1:30-7 pm Wednesday; and 1:30-8 pm, Thursday-Friday. 
815 Pine St., Bristol, CT 06010
Bounce U is open 9-10:30 am and 12:30-2 pm for kids ages 2-7 only, Monday-Friday. All ages open bounce is 3:30-5 pm, Monday-Friday. They also offer Family Night on Wednesday and Thursday, from 5:30-7:30 pm, when you can purchase pizza and beverage for $3.99. Admission to bounce during all open play hours is $11.95 per child. 
712 Brook Street, Rocky Hill, CT 06067
Originally written on 2/04/12 by Tania Pesce.