Halloween Train Rides in Connecticut 2014: Haunted OR to the Pumpkin Patch, Your Choice!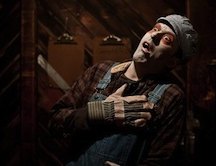 There are two types of Halloween Train rides: those that are cute and take you on a scenic tour to a fun pumpkin patch and those that are spooky. Depending on the age of your children (and your "scary" tolerance) you'll want to choose one or the other. We've rounded up some great Halloween Train Rides of both varieties here... and you can also check out our CT Halloween and Fall Fun Guide, which is filled with great information, activities and events throughout the season. 
Connecticut Trolley Museum: Pumpkin Patch Train Ride
Enjoy a ride through the beautiful Connecticut countryside in the crisp fall air aboard one of the museum's antique trolley cars. Then, hop out at the Pumpkin Patch and search for a pumpkin that's just right for you. Every child admission includes a free pumpkin! Keeping your pumpkin safe on your lap, you ride back to the Visitor Center where you can participate in pumpkin decorating activities, face painting, contests, games, and other activities. On Sunday, October 26th, have the kids wear costumes during their visit to the Museum and get a 50% discount on their tickets! 
Pumpkin Patch Train Ride hours: Fridays 10:00am - 3:30pm, Saturdays 10:00am - 4:30pm, Sundays 11:00am - 4:30pm, and Columbus Day 10:00am to 4:30pm.
Connecticut Trolley Museum: Rails to the Darkside. This is billed as the scariest trolley ride in all of New England. This spooky, nighttime haunted trolley runs down a dark, unlit track on Fridays and Saturdays nights in October from 7:00pm-9:30pm. Ride the old trolley into the woods of Connecticut along the longest stretch of straight track in the state. A graveyard had to be moved to complete the construction of the tracks and who knows what will happen if you venture out on the trolley after dark. Chilling screams guaranteed! $16/person.
Connecticut Trolley Museum 
58 North Rd. East Windsor, CT 
860.627-6540
The Danbury Railway Museum Vintage Pumpkin Patch Trains
Ride a vintage train to the pumpkin patch! Includes a free pumpkin for every child
 as well as free cider and cookies. Ride in the railyard and take a stop for a turntable ride in a restored 1903 station and railyard
. Coloring station, temporary tattoos, and more. Costumes encouraged! No reservations required. Event will be held rain or shine.

Additional parking at Patriot Garage, across from the Museum.
Saturday, October 15, 22 & 29 
Trains hourly, 10:30 - 3:30
Sunday, October 16, 23 & 30 
Trains hourly, 12:30 - 3:30
Station & Gift Shop open until 4:30
Admission: $9 age 2 and over (under 2, free).
The Danbury Railway Museum
120 White Street (in the old Danbury Train Station at the corner of White Street and Patriot Drive.) Danbury, CT
203.778.8337
Naugatuck Railroad Pumpkin Patch Trains
This year the Harvest Pumpkin Festival includes a train ride to the Pumpkin Patch aboard the Naugatuck Railroad.  After your visit to the pumpkin patch, re-board the train for a fun and scenic ride back to Thomaston Station.  Buy your tickets online now or call (860) 283-7245 to purchase. Reservations are recommended. Saturdays and Sundays, October 11-12, 18-19 and 25-26, each child gets to choose a pumpkin in the Naugy's own pumpkin patch.
Train rides depart at Noon and 2:00 PM from Thomaston Station.

 Special event pricing $17 Adults, $15 Seniors (62+) and $15 Children (3-12). Children 2 and under are free. The Naugatuck Railroad operates every Saturday, Sunday and Tuesday for Fall Foliage Train Rides in October as well as Columbus Day Monday, October 13th.
Railroad Museum of New England 
242 East Main Street, Thomaston, CT 06787
860.283.RAIL (7245)
The Shore Line Trolley Museum: Haunted Isle
This October, a trolley will carry passengers down the tracks to a gate then the choice is yours... enter if you dare!
The Haunted isle is open Friday and Saturday evenings starting October 5th - 31st. First ride 7PM, Last trolley leaves the museum at 10:00 PM. Fare: per person is $12, express admission is $20. The Haunted Isle is rated S for "spooky" and is recommended for adults and mature children that do not have any health issues! Wear good walking shoes as the Isle is a wooded path with many twists and turns. (children under 5 not permitted)
www.hauntedisle.org.
Shore Line Trolley Museum: Pumpkin Patch Rides
Take the trolley to the pumpkin patch, where children select their own little pumpkin to decorate. Coloring pages, toy train layouts, refreshments, and more! (10/11-12, 10/18-19, 10/25-26)
Museum grounds open at 10:00 AM, first trolley runs at 10:30, the pumpkin patch opens at 11:00AM and the last ride to the Pumpkin Patch leaves at 4:00 PM. Fare: $10 Adults, $8 Seniors, $6 Children ages 2-15, free for children 1 and under.
The Shore Line Trolley Museum
17 River Street, East Haven, CT 06512-2519
203.467.6927
Essex Steam Train & Riverboat
While there isn't a specific Halloween-themed ride, you and your family can enjoy a scenic fall trip along the train with a connection to the Riverboat. Many trips to choose from on Saturdays and Sundays. Check their website for details and pricing.
Essex Steam Train & Riverboat
One Railroad Avenue, Essex, CT 06426
860.767.0103
Originally published 10/7/11.