Mostly Free and Fun Things to do With Kids in CT This Weekend, November 16-17: Thanksgiving Events, Theater, Tea Parties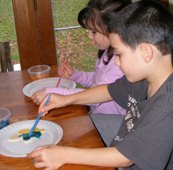 November is a wonderful time to teach kids about the importance of gratitude. It starts at home, so create some fun for them with Thanksgiving Crafts: Fun Projects That Help Kids Give Thanks. There are also numerous ways to celebrate turkey day, so you'll want to see our post on Thanksgiving Historic Meals, Races, Crafts and Stories in Hartford County.
I am a horrible cook, so the thought of making a Thanksgiving turkey is really overwhelming. Want a stress-free holiday?  Thanksgiving Day: Dinner Out Anyone?  is my kind of article. Reservations sound fantastic to me! Christmas starts earlier every year it seems, so check out our list of  The Top 25 Santa Activities in CT.  Many of these activities are very popular and sell out early, so jump on it! 
Our Holiday Fun Guide, November CT Go List and events calendar are wonderful resources to make the most of your time. Here are some suggestions for fun this weekend! 
All Weekend 
A Christmas Story at the Bushnell - Hartford County 
A play based on the holiday movie that keeps on giving, year after year. You'll love Ralphie's adventures and his quest for a Red Ryder BB Gun. I triple-dog-dare you to go see it. Your family will love it! Runs 2 hours and 30 minutes, so plan accordingly depending on the age of your child to sit that long. 
$22 and up. 
The Main Street Kids' Club at Playhouse on Park - Hartford County 
This MathStart musical for ages pre-k through 4th grade is a fun adventure that includes mystery, friendship and math. Inspired by the award-winning books by Stuart J. Murphy, the theater version promises to be educational and entertaining. Continues through November 24. 
$15 per person.
Holidaze: The Real Story of Halloween, Thanksgiving and Christmas - New Haven County 
This fun and unique exhibit at the Henry Whitfield State Museum in Guilford will clear up some holiday myths and educate about their origins. What did the Pilgrims serve on the first Thanksgiving? How did the candy cane get its stripes? Hands-on activities for all ages. 
Adults - $8; children (6-17) $5; ages 5 and under - free 
Saturday, November 16 
Track Stories at Westbrook Public Library - Eastern CT 
Ranger Russ Miller joins the library for this free, family event about tracking animals. He'll have live animals for you to meet, including a woodchuck. Maybe you can find out exactly how much wood a woodchuck chucks. Refreshments served. 
Free. 
Photos With Santa at Splurge in Greenwich - Fairfield County 
Splurge Gifts in Greenwich will be the place to get your Santa pictures done early and get those cards out right after Thanksgiving! A professional photographer will be on hand to take a 4X6 picture of Santa with kids or pets. The proceeds to go Kids in Crisis, an organization providing support for children dealing with abuse, neglect, conflict or other situations. No appointment needed! 
$10 donation. 
Merry Hill Harvest Festival and Craft Fair in Newtown - Fairfield County 
Get some holiday shopping done while the whole family is entertained! There will be several local vendors on hand with items such as purses, American Girl clothing, and gourmet food items. The kids can play on the inflatable slide or make crafts in Santa's Workshop. Tractor Mac will be on hand, The Ever Wonder Children's Museum will have science projects for the kids. Local restaurants will be selling food and snacks as well.
Adults - $5; Children - $3
Live Right Kids Day Event at ShopRite in Southington - Hartford County
A family cooking class followed by prizes and fun activities geared towards healthy holiday meal preparation. The kids will get excited for Thanksgiving and maybe you'll gain a few extra hands in the kitchen. 
Free; space is limited, please register ahead of time. 
Exploring Artism at the Yale Center For British Art - New Haven County 
This is a wonderful program geared towards families of children 5-10 years old on the spectrum. In a non-threatening environment, you can explore the art galleries and have discussions about what you see. Finish the day making an art project of your own. Please RSVP in advance. 
Free. 
Sunday, November 17 
Peter and the Wolf at the Jorgensen Center in Storrs - Eastern CT 
A live orchestra and fantastic puppets make this classic favorite come to life. Recommended for 5 and up, you and your children will love the story of a boy and his adventures with a wolf. 
Adults - $16; children - $14
Thanksgiving Is Here! at the Welles-Shipman-Ward House - Hartford County
Transport your family back to colonial times and see how they celebrated in the late 1700's/early 1800's. The fire will be roaring and you'll enjoy demonstrations and samples of treats that won't be on your modern-day table. You can also take a tour of the barns, mansion and tobacco shed. 
$3 per person. 
Sugar Plum Tea Party in Torrington - Litchfield County 
Enjoy a meet-and-greet with the characters from the Nutmeg's Ballet Nutcracker. You'll have tea, make a craft, photos, storytime and more. Also on November 24. 
$20 per child; $10 for siblings.
Holiday Open House at Angevine Farm in Warren - Litchfield County 
Get ready for the holidays at the 18th annual open house. Make a wreath, a gingerbread man or ornament; tag your Christmas tree early! Sing songs and enjoy festive treats. Then burn them off on a hike around the farm. And don't forget your camera to capture the perfect family photo!
Free; wreath making $20-$25.
Be sure to follow us on Facebook, and make sure Mommy Poppins CT shows up on your feed by including us in your "interests list." To put a page on your "interests list," hover over the "Like" button and you'll see a pull-down menu that offers an "add to your interests lists" choice. Subscribe to our weekly newsletter and be sure to get the weekend round up every Thursday in your inbox.
Don't forget to follow us on Twitter and Pinterest in order to get updates on events, current contests and free giveaways. Our event calendar is updated constantly with fun activities around the state. 
Have a wonderful weekend!