Free and Fun Things to Do this Weekend with Kids in CT: Robin Hood Festival, Pet Parades, Carnivals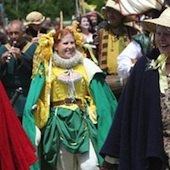 This week our calendar of events is FULL of great events all over the state. Lucky for us it is suppose to be sunny and beautiful all weekend! Beardsley Zoo celebrates its 90th birthday this weekend with fun surprises for visitors all day long. Lyman Orchards is hosting Connecticut Day in Middlefield. CT-made treats, family activities as well as jam making demonstrations are sure to make this a fun foodie event. In Stamford head out to the Spring on the Farm Festival Weekend at the Stamford Museum and Nature Center. In West Hartford its Farm Day at Westmoor Park. Baby animals, hayrides, games and more will make this a fun outing.
Discover what life was like on the battlefield during the Civil War in Litchfield during Family Day. Get dressed up in your favorite medieval costume and join in on the revelry at the Robin Hood Springtime Festival in Guilford.For those close to Farmington you can participate or just enjoy the Hill-Stead Museum Pet Parade. All pets should be restrained by leash or an enclosure. The Leila Day Nursery School is throwing a Spring Fair to raise funds for their families with economic needs. There will be pony rides, games, crafts and food.  In Bethel head out to the St. Mary's Carnival where you can enjoy rides, games and raffles. Enjoy a modern day Allison Wonderland at the Downtown Cabaret Theater or check out Cinderella in Ridgefield. Ever wonder how the Mystic Aqaurium trains their sea lions? Discover how on Saturday. Pre-registraion is required. There's an Eco-Kid Bash in Bridgeport. Be prepared to get messy!
Believe it or not, that was just a tidbit of fun events going on in CT this weekend. For a listing by date check out our events calendar for even more fun to be had. Strawberry season is about to be upon us and we've run two posts this week about where to go. In Hartford County we listed 5 farms to pick your own strawberries. We also featured berry farms all over the state.
Planning ahead for summer? Our Summer Camp Guide has some great options for the kids. Our most popular post, 120 Things to Do with Kids in CT Before They Grow Up was updated with our readers' suggestions. We'll have a summer to do list at the CT Summer Fun Expo on June 3rd at the Westfield CT Post mall in Milford. Mark your calendars for a fun and informative event where there will be arts and crafts, face painting, great raffle prizes such as a $500 shopping spree and time to meet with some great people including the Litchfield Jazz Festival and Camp, Milford Indoor Tennis and CT Kids and Family. And please, stop by and introduce yourself to me! Afterwards, head over to the on-site carnival that will be occurring at the mall that day.
Did you check out what we pinned on pinterest this week? I especially love the outdoor kitchen for kids. Follow us on Twitter and Facebook where we are active every day.
Enjoy the sunshine this weekend and have a great time making memories with the kids!