Free and Fun Things to Do This Weekend in Connecticut with Kids: CT Open House Day, Festivals, Art Shows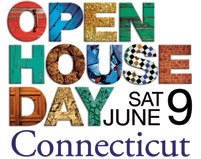 Even though most children have a week or two of school left, the summer fun begins this weekend with lots of festivals and free family events.  It's CT's 8th Annual Open House Day this weekend which means that museums, galleries and parks all over CT are opening their doors for free. Many are doing special events for families all weekend long. The Community Cooperative Nursery School in Rowayton is holding its 50th Anniversary Art Show this weekend featuring over 75 artists. Looks like a great way to add quality local art to your home as well as raise money for a great school. Bring your pooch to the Canine Carnival and Dog Walk at Stepping Stones Museum this weekend. There will be games for families and dogs, face painting, performances and a best dressed contest.
The Mystic Seaport is hosting its 33rd Annual Sea Music Festival. There will be many concerts as well as special kids' performances and workshops. Bright Horizons will be celebrating A Day Out With Dad with fun Father's Day events at their center and then by giving free passes to the Sports Center in Shelton. All dads will recieve a free golf swing analysis. Also in Shelton, the Soupstock Music and Arts festival is this weekend and there will be arts and crafts, a bouncy house and Kid's Olympics. Ride behind an 80 year old coal-fired steam locomotive at the Naugatuck Railroad. It's Harriet Beecher Stowe's birthday and you can celebrate with free house tours, carriage rides, crafts and birthday cake! Right across the street don't miss more family fun during Tom Sawyer Day at the Mark Twain House. We've listed the CT's Open House Day participants in both Hartford and Fairfield Counties. Celebrate West Hartford with free entertainment all weekend long as well as games, rides and a 5k road race. 
In Manchester the New England Fiddle Contest will bring music to your ears. Since 1974 this premier contest has drawn the largest crowds and best fiddlers from the region. Baseball history buffs will not want to miss a vintage baseball game as it was played in the 1860's on Saturday at Colt Meadows in Hartford. They will be celebrating World Ocean's Day at both Connecticut's Beardsley Zoo and Mystic Aquarium. You can make a difference by participating in a beach clean up at Bluff Point State Park. In New Milford the Village Center for the Arts is hosting Paint the People on Saturday. If you love rhubarb you won't want to miss the Rhubarb Festival at White Silo Farm in Sherman. The Lutz Children's Museum, The Junior League of Greenwich and the Mandell Jewish Community Center are having Touch-A-Truck events. Sunday is Pirate Day in downtwon Milford. There will be a downtown treasure map along with a booty bag for your found treasures. Pirates will be visiting Milford that day and Captain Hook will be looking for more crew members. The Sportsplex in Fairfield is opening their doors to everyone on Sunday with free admission, laser tag, giveaways and more. For even more events check out our calendar where they are listed for you by date.
Thanks to all who came out and had a FREE day of fun at the CT Summer Fun Expo last week. The kids had a blast and many attendees left with great raffle prizes. For pictures check out our facebook page.
Tis the season for family festivals and fairs this June and we've listed a bunch of them in the Hartford and Fairfield areas for you. If you enjoyed our first list of 25 FREE things to do in Fairfield County this summer you will certainly like our list of 25 more free things to do!
Now that the Expo is over I am going to start concentrating on more fun things to do in Litchfield County. If you have event listings please submit them for FREE in our calendar.
LIKE us on Facebook and Twitter for up to minute information about fun happenings all over CT! We also love updating our Pinterest boards with great kids stuff including party and family food ideas. It's especially fun to follow some of our reader's boards back!
It's suppose to be in the low 80's and sunny (for the most part) this weekend. For beach fun check out our day trip post that we did a few weeks back. Alas, enjoy every minute of your weekend with the kids!