Family Friendly Restaurants in Connecticut (Hartford County)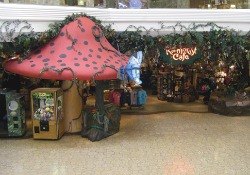 Going out to eat with kids can sometimes feel like a daunting event. Everyone dreads being that family with the antsy child who doesn't want to sit still, is too noisy, or is impatiently waiting for food that seems to take forever to come out. But if you head to one of these family friendly restaurants you can set your worries aside. With fun themes, great food, or their special kids meals one of these restaurants will definitely be a good pick. We've also rounded up some of our favorite family friendly restaurants in New Haven County here.
Try going out to a Japanese style hibachi restaurant where they cook the food right in front of you. The chefs usually put on a fun show while cooking such as making an onion "volcano" where fire explodes out, squirting water into your mouth, or pulsating the fried rice so that it looks like a beating heart. Yume in Unionville is a close local option with reasonable prices and delicious food. While your children are enjoying the ambiance you can even sit back to enjoy some Saki!
45 S Main St. Unionville, CT 06085
East Side Restaurant in New Britain serves authentic German food with a fun atmosphere. With servers dressed in German style attire, decorations, a beirgarten and even an accordion player this will definitely be an entertaining family day out.
131 Dwight St. New Britain, CT 06051
In Manchester pizza lovers can delight their taste buds to a special treat at Randy's Wooster St. Pizza. They have delicious specialty pizzas with creative toppings you can't find anywhere else like the Skippy's Dare (a pizza covered in Peanut Butter), or a pizza topped with mashed potatoes. The décor is a hot wheels theme with life size monster truck wheels covering the walls, paraphernalia, a huge car covering the tables and even a game room in the back. If you're going to get an appetizer try the fried pickles they're amazing!
1131 Tolland Tpke St T Manchester, CT 06040
Originally published 2/10/12.