Family Friendly New Year's Eve fun in Connecticut (Fairfield County)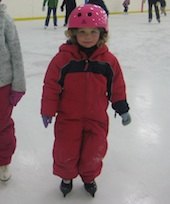 Finding a babysitter on New Year's Eve is harder than getting your one year old to eat spaghetti without getting it in her hair.  And harder than getting your eight year old to clean her room.  (Well, maybe it's not quite that hard…)
Happily there are many New Year's Eve activities in Fairfield County that are great for the whole family – no sitter necessary! 
Public Skate at Stamford Twin Rinks, Stamford
Stamford Twin rinks is hosting a public skate on New Year's Eve from 10am – 3:50 pm.  Rates are $6.50 for ages 6 and under, $8.50 for ages 7 and up, and skate rentals are available for $4.50.
1063 Hope Street, Stamford, CT  06907 203.968.9000
Outdoor Public Skate at Westport PAL rink, Westport
Skating is great; skating in the sunshine is even better!  Westport's PAL rink is outdoors, and in nice weather, it's a sure hit.  Rates are $6.25 for ages 12 and under, $10 for ages 13 and up, and skate rentals are available for $5.00.  Open December 31st, 11:00 AM – 6:00 PM.
260 Compo Road South, Westport, CT 06880 203.226.7465
First Night Celebration, Danbury
Danbury is holding its 24th annual family friendly first night celebration.  The festivities kick off with an (optional) 5k run at 3pm, followed by performances by jugglers, storytellers, puppet shows and stilt walkers, amongst others from 4-8pm.  Admissions buttons can be purchased in many Danbury locations for $8.
203.792.1711
First Night Celebration Westport
Also holding a town wide first night celebration is Westport and it's their 20th year.  Starting at 4 and ending at 10pm, the celebration will include a fireworks exhibition at 10:00 pm.  Carriage rides, face painting and music will all be featured; entrance buttons are $10 and can be purchased online.
Of course, staying in can sometimes be the best New Year's plan.  If you're planning on being at your house this New Year's Eve, invite a few families over for a night of playing cards (Spoons is a favorite over here), watching holiday movies (Elf, anyone?), and toasting the start of 2014 with good friends!
Originally written by Katie McKnight and published on 12/18/2011.