Black Friday Deals 2011: Toys and Games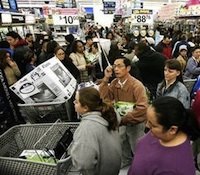 If you are ready to take the Black Friday plunge and throw yourself into the shopping frenzy to find the perfect - or most affordable - toy or game for your kids, read through our round-up of the big stores' deals for Black Friday 2011.
What is hot?
In case you do not have a ready and vetted 'wish list' supplied to Santa by the main beneficiaries and are uncertain what the most desired items are this year, here is what seems to be most popular in the sales circulars.
For toddlers and preschoolers, V-tech and Leapster/Leapfrog devices and software are everywhere. Barbies, Bratz dolls and Disney Princesses and various related sets are offered for girls of all ages. Cars 2 are rolling mightily through most stores' deals. Lego boxes, train sets and a variety of vehicles with and without pedals and little electric engines for all ages are 'must-haves' and gaming tables of all kinds continue in popularity, as well. As for older boys, there is always the endless list of a favorite video games and somehow each year brings some kind of new or newly re-configured gaming console.
Where to get what?
The big stores all offer something for all of the key categories. Their pricing strategies are slightly different: Walmart and Target - which is running a pre Black Friday 4-day big sale, too - specify prices in dollars that are easy to assess. Toys R Us highlights the - in some cases clearly impressive - percentage discounts, Kmart has a few 'buy-one-get-second-free' deals. GameStop offers trade-ins.
For variety and selection, Toys R Us is probably the place to go: their offering is the richest both in terms of the types of toys and games offered as well as in the number and variety of brands. Walmart has a more limited selection, but they have a handful of blockbuster deals for each key 'hot' category, type of product. Target, true to its brand and image, has some deals and some nice, unexpected specialties. Kohl's is mainly focused on smaller items, matchboxes and doll sets. Sears may be worth checking it for their selection of gaming tables and bikes.
Store by store
Toys R Us
The big toy shopping spree can start as early as Thanksgiving Day, 9 pm. 150 toys and games are on the big sale. Below is a partial list of their best and biggest deals that really highlights the variety:
35% off Lego sets
50% off Tool sets, Bratz dolls,
60% off Disney Treasury books
40% off Thomas starter set
35% off Crayola Magic Light Brush and Drawing Pad
60% off Nerf Dart tags
40% off Power Wheels, Lil Master trikes and scooters
40% off Kawasaki ATVs, Step2 Buggies, selected bikes for all ages, toddler scooters
50% off Calico Critters families
50% off Fisher Price toddler and baby toys
40% off Imaginarium Motorized Marble Race
$100-$150 off trampolines, toddler and kid outdoor play-sets
They also have many electronic gifts - phones, iPods, music players and of course video games on sale. If any of the biggest deal items caught your attention or you are looking for something specific, check out their Black Friday ad here.
Walmart
The king of discounters will open up its treasure chest at 10 pm Thanksgiving night. Walmart is offering limited items (both in selection and quantity) of deeply discounted items, but is also bringing some 'Walmart, only' special items this year. For their complete list of Black Friday deals, please, click through their ad here, for our 'best steals' list, see below:
Limited Edition Blue Wii console with nunchuk and remote for $99.96
Xbox 360 with Kinect for $199.96
Playstation 360 with controller and game bundle $199.96
Video games: $10, $15 (Wii Toy Story 3) and $28 (Wii Cars 2, Xbox Call of Duty Back Op)
Movies from $1.96 to $9
Disney Storybooks: $5
Bikes: $29 - $99 (Mongoose 26")
Scooter for toddlers and kids: $12
Electronic scooter: $69
Board games: $3.88 (Candyland), $6.88 (ConectFour, Monopoly, Battleship)
Power Wheels: convertible, ATV, Jeep Wrangler: $99
V-tech and Leapfrog interactive, electronic toys and learnings systems: $10 - $20
1600 piece giant Lego set: $30
Special Disney Cars Power Wheels Lighting McQueen: $199
45 piece wooden train set with activity table, storage bin: $59
Bratz, Barbie and Disney Pricness dolls: $5
Cars 2 Mega Track Value Pack: $25
Step 2 Kitchen: $50
Target
Doors open at midnight, just after Thanksgiving. As expected, Target has the expected items in the expected categories, but also has a few, special item featured that others may not have or emphasize. However, their selection is significantly smaller than that of Toys R Us and somewhat more limited than Walmart's.
Preschool board games: $3.99
Diary of the Wimpy Kid DVD: $5.99
Preschool Mega Blocks: $10
Leapfrog and Leapster and Explorer Software: $14.99
Cars 2 DVD: $13
Lego sets: $64.99
My First Disney Princess Doll and Toddler Dress: $19.99
Spynet Night Vision Infrared Stealth Binoculars: $24.99
Disney Princess Musical Vanity: $49.99
8 GB iPod nano: $129
Amazon Kindle Keyboard 3G: $85 
For all the items offer in the Black Friday sale, check out Target's advertising booklet.
Sears
Sears is obviously not your number one choice when shopping for toys in general, but they have great deals on gaming tables, bikes and electronic toys. For gaming tables and bikes, it is not only the prices, but the selection and the choices that are worth checking out.
48 in air powered hockey table: $37.99
Majik Roll 'n Bowl (bowling): $47.00
Vertex 2-pc table tennis table: $239.99
7-ft Auburn billiard table or 7-ft Ice Quake air powered hockey tble: $199.99
Disney Cars or Princess bikes: $24.99
Mongoose Saga 26": $179.99
Razor electric scooters: $109..99
Ninetndo Wii with Super Mario Bros: $134.99
Their Black Friday sale ad is almost a catalog and is a bit difficult to navigate online, but you may want to browse through it before their show starts at 4 am on Friday. 
Kmart and Kohl's
Kmart is kicking off their big event at 5 am Friday morning, while Kohl's starts early at midnight. Both have a more limited selection, Kmart having some 'bulkier', bigger items, while Kohl's mainly focusing on cars, doll sets and simpler interactive games.
Kmart's deals with more from their Black Friday ad available here:
DVDs: $2.99-9.99
Barbie: $5
Barbie and Ken sets: $15
Bratz: $7.99
Mega Blocks: $9.99
Walking puppy: $14.99
Graco Playset: $19.99
Tikes Cozy Coupe: $39.99
Let's Rock Elmo: $54.99 
The highlights from Kohl's deals from their own circular:
50% off all Matchbox and Hotwheel toys
Barbie: $6.99
Barbie gift sets: $15.99
Board games (Sequence, Monopoly, Scene it?): $15.99
Leapfrog and V-tech interactive toys (babies and toddlers): $17.99-$39.99
Fisher Price Little People: $34.99
GameStop
The video game store will open at midnight and as expected, it is offering scores of deals on a variety of games including the most popular titles. If you are looking for something specific, you can look through their items here, while a partial list of their deals is below:
Wii bundle with Super Mario Bros: $149.99
Nintendo: $169.99
Save $20 on Gears of War, Sonic and similar games
Save $10 on Portal 2, Battlefield, Medal of Honor games
GameStop offers in-store credit for used iPods (up to $70 for nanos, up to $120 for newer versions), iPhones (up to $180) and iPads (up to $300).
Local specialty toy stores
If you are looking for a specialty toy or a more niche brand or are simply searching for new, creative toy ideas, you may want to visit one of the many local, smaller specialty toy stores in your community such as Giant Steps in Farfield, The Wooden Toy in Wethersfield, The Toy Room in Bethel or Smart Kids Toys in Greenwich. Some of these specialty toys come out with their own Black Friday deals and ads, look for them in your local newspaper. 
Happy shopping and good luck!