Mostly Free and Fun Things to do in CT with Kids This Weekend November 3-4: Santas, Scarecrows & Parades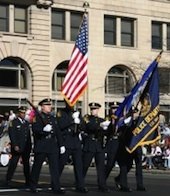 Many CT families are dealing with the aftermath of Hurricane Sandy. We at Mommy Poppins wish our readers a smooth recovery and power restored quickly. Towns such as New Haven, West Haven, East Haven, Fairfield, Orange and Milford have delayed trick-or-treating until November 7. 
If you are able to get out of the house this weekend, we have some activities that will lift your spirits and give your kids a fun diversion. Just be sure to call before you go to make sure the event hasn't been canceled. While out and about be very careful of downed power lines and loose tree limbs.
This year it seems like Christmas items were sharing store aisles with Halloween. My son is already working on his wish list for Santa. Do you want to get a head start on shopping or have breakfast with the big guy? This weekend, head to Santa's Workshop Arts & Crafts Festival at the Litchfield Inn. There will be arts and crafts for sale, a Santa parade, cookie and gingerbread house decorating and more. You can also see St. Nick Saturday for Santa's Opening Act at Danbury Fair. Come see an interactive show and sing holiday favorites. 
If you can't wait for ski season, you might want to check out the Ski and Board Swap at Powder Ridge in Middlefield. Buy and sell used equipment that is in good condition. 
Veteran's Day is officially November 11th, but this weekend there are some great ways to get out and show your support for the men and women who serve our country. One of the largest salutes takes place Saturday at the CT Veterans Parade in Hartford.  More than 150 military, veterans, and musical groups will march the nearly two-mile route through downtown. 
Sunday there will be a free Veteran's Day Program and Concert at the Brookfield Public Library. The vocal and musical group J and B Lite will play selections that became popular during the war years, and local veterans will be honored. 
Family Day at Putnam Memorial State Park showcases revolutionary war re-enactors to celebrate the anniversary of war camps in Redding . Kids drill instruction, artillery demonstrations, colonial craftsmen and other programs will entertain the entire family. 
Get up close and personal with some real vehicles at Stamford Museum & Nature Center's Touch a Truck. Climbing into a fire truck or digger will be a real thrill for children of all ages. 
First Saturdays are free at CT Historical Society in Hartford. This weekend visit the Cats & Dogs in Art and Life Exhibit and then make a pet toy to bring home to your favorite cat or dog. All ages are welcome, and you can drop in between 10am and 1pm. 
Also on Saturday, there is free admission for kids at the Mashantucket Pequot Museum and Research Center. This museum is a wonderful resource of history and culture for Native American Tribes. There are interactive programs and a children's library, and several exhibits including "A World of Ice" and "Life on the Reservation." 
Make a scarecrow, have a parade and see if yours wins best in show during Guy Fawkes Day at Guilford's Henry Whitfield State Museum. Enjoy a bonfire and an learn about Fawkes and why his role in history is significant. 
Be sure to follow us on Facebook, Twitter and Pinterest in order to get updates on current contests and events. 
Visit our event calendar for more fun activities for your family.  Have a wonderful weekend!